It happened 40 years ago on Sunday, January 12, 1980, and it's a day that changed my life forever. There were 108 of us there on the island of Oahu to attempt the third-ever Ironman Triathlon. In both 1978 and 1979, the event attracted 15 starters and 12 finishers. Because of a long article in Sports Illustrated showcasing 1979 champion Tom Warren, the 1980 event had ballooned up to triple figures.
On the starting line that day were myself, my roommate and future Mountain Bike Hall of Famer Ned Overend, legendary Boston Marathon Race Director Dave McGillivray, 1978 champion Gordon Haller, 1979 champion Tom Warren, three-time Olympic cyclist John Howard, Race Director Rick Kozlowski, and Kurt Madden, among other notables. Below is my look back at that very special day. I can't believe it has been 40 Years!!
Always Keep Moving Forward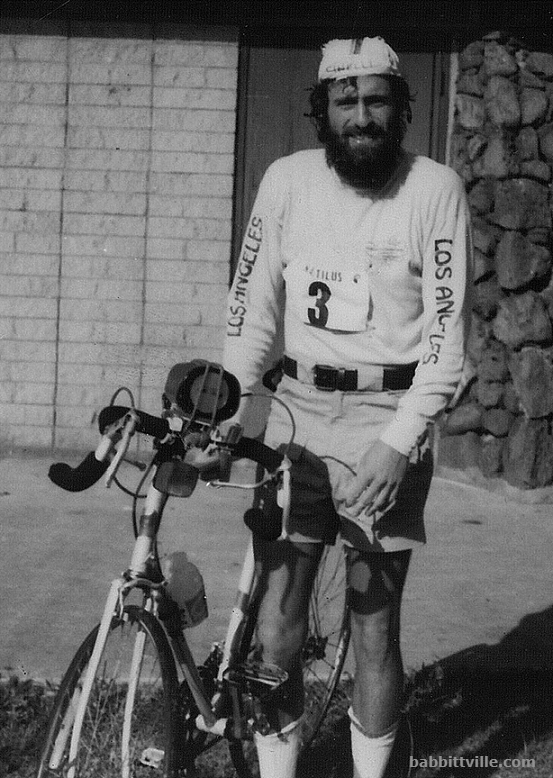 I went over to the 1980 Ironman on Oahu and had no idea what I was in for. This photo is of me right after I finished the 2.4 mile swim.
Okay, so it's not the best look in the world. But, hey, the year was 1980, there were only 108 of us lined up for the swim start in Waikiki and there really wasn't any dress code for this unknown event called the Ironman. Heck, Dave Scott won the race and he was wearing a cotton tank top and tube socks. He also had his folks follow him in a rented station wagon with a spare bike strapped down to the top of the car. Compared to this guy, I was positively GQ.
So let's go through my Ironman outfit piece by piece:
Bike. It was a Centurion, I think. I bought it at a police auction for $75 three weeks before the race. It had been in a minor fire — the translation of 'minor fire' means you yourself did not become a briquette in it. Good looking, don't you think? Of course I made some minor alterations to make it a tad more aerodynamic. We've got the padded handlebars, the fuzzy raccoon seat cover, the Radio Shack radio bungee-corded to said handlebars to keep the 112 miles from being obnoxiously dull, the panniers and the sleeping bag. The what? Let me explain. When I first came to Oahu, I thought you did the event in two days: swim 2.4 miles, ride 56 miles, camp out, get up in the morning, ride 56 miles then run the marathon. This do-it-all-in-one-day stuff totally took me by surprise.
Kickstand. You never know when you've got to get off your bike and stretch your legs. I certainly wasn't going to lay my prize possession down on the ground and scratch the already charred paint.
Reflectors. Can you say riding in the dark? I certainly thought I might be.
Solid rubber tires. Some of us are, shall we say, mechanically challenged. I really had no idea how to change a tire so I simply had solid rubber tires put on the bike. No need to carry extra tires. So what if it felt like you were riding a jackhammer? I knew I'd never have to stop for a flat. Plus, these puppies had the shelf life of Velveeta, a Hostess Twinkie or Dick Clark. They are simply nuclear attack proof. Sort of like the black box on a plane. I want to sit by that thing when I fly. When the plane disintegrates into millions of microscopic particles, they always find the black box totally intact. My tires were like that.
The beard and afro. I looked like Che Guevara on the lam and, yes, I could store food for months in there. I don't think the beard was that aerodynamic in the water. Can you say very large sponge? But when I first flew to Oahu, it certainly was worth a few laughs. See, Gordon Haller won the Ironman in 1978, the first-ever champion. He had a big beard. I was on the plane in 1980 from San Diego to Honolulu along with a bunch of Navy SEALs going to do their first Ironman as well. They see the beard and think I'm Gordon Haller, former Ironman champion. They see the bike you are looking at roll off the plane—this is before bike boxes—and think this is the bike that won the Ironman. They were checking my stead out like it was Lance Armstrong's bike from the Tour de France. Hmmmm…fuzzy raccoon seat cover…radio…solid rubber tires…this Gordon Haller guy must know something we don't. That visual still makes me laugh.
Hat. It was a silly little cycling cap with the brim turned up like it's supposed to be, right? When my roommate, Ned Overend, and I first decided to do this Ironman thing, we tried cycling in our rock-climbing helmets, which had no holes for ventilation. After 10 miles, the heat was so overwhelming we thought our melons were going to explode. Hence, the move to the funny-looking cycling cap.
Long-sleeve cotton shirt. Always good in the islands. You never know when the temperature might plummet to a brisk 87 degrees and you certainly want to be prepared. I sewed pockets on the back of the long-sleeve shirt and, even though I had a support crew driving a convertible Fiat with most of my gear in it, I still had enough Hawaiian Sweet Bread in my back pocket to feed Guatemala. To supplement the Hawaiian Sweet Bread, my crew supplied me with all the race-day nutrition I really needed: Big Mac, fries and a Coke at mile 25—plus a bitchin' snow cone at mile 80.
Khaki bike shorts with pockets. Yep…they had pockets and a chamois to keep all of my moving parts happy. I didn't really know about the bun-hugger bike shorts yet and, quite frankly, I think this was a better look anyway. Hey…I'm the only Ironman finisher in history to wear a leather belt during the bike ride. People sometimes wonder why I got inducted into the Ironman Hall of Fame. Maybe it had something to do with my particular sense of style.
Race number 3. Did the race folks mistake me for Gordon Haller as well? Was I seeded? Not quite. Did I send my $10 entry fee in really early? That's my guess. Whenever someone asks about my best finish in Hawaii, I tell them about 1980. I was 55th overall at the Ironman Triathlon World Championship. Who needs to know that there were only 108 starters? We'll keep that between us as our little secret. SHHHH!
The bottom line. My tube socks came up to the knees, just like my homeboy Dave Scott. My shoes were Jack Purcell tennis shoes, and we used cages on the pedals. To be honest, I never realized that you were supposed to reach down and actually tighten the straps of the cages on your shoes. I thought that putting your feet into the cages somehow magically made you one with the pedals. My bad.
Between the ride and the run my support crew provided me with a full body 45 minute massage. They had a rule in the early days of Ironman that you had to stop and get weighed multiple times throughout the race. If you lost 5% of your body weight, you'd be pulled from the race. As I left T2 to begin the marathon, they weighed me. Four miles later, after I'd been walking and shuffling and chowing down on Hawaiian Sweet Bread and Gatorade, they weighed me again. As I stood there on the scale, the person with the walkie-talkie told the person on the other end of the line my weight. I could hear the voice on the other end as clear as day: "Can you give me that again? He has gained four pounds? You can't GAIN weight doing this!"
I could…and I did.
As I came to the finish in Kapiolani Park, I thought there would be a band there to greet all 95 of us finishers. Or maybe cheerleaders. Instead, I spotted a chalk line in the street and above us was a light bulb suspended on a wire. "Hey you," came a voice out of the darkness, "are you in the race?"
"Yes I am," I responded proudly.
His next two words were perfect "You're done!"
No band, no cheerleaders…. no nothing. Just one of my fellow competitors doing one arm push-ups in the park.
But as I walked away from that experience, I knew this thing called the Ironman had changed me forever. I had finished something in one day that I didn't think I could. From that day on, I drew on that Ironman finish whenever anything in my life seemed overwhelming.
The Ironman, just like life, is littered with highs and lows. The key to success in both, I discovered that day 40 years ago, is to simply stay positive, keep smiling and always keep moving forward.
No matter what.
Read more about my 1980 Ironman, and my experiences at the 1981 – 1989 Ironman World Championships here.
Read about my 1986 Ironman here.