Photo above shows Caroline Steffen after filming an interview in 2012.
The 2017 

Breakfast with Bob

from Kona will be the 8th edition of the show. We take a look back at the shows over the last seven years with a few highlights from each year. Over the seven editions so far, we've filmed nearly 250 interviews, which means this year we will film our 300th Breakfast with Bob from Kona interview.
Thank you to all our viewers, guests, and sponsors who have made the shows so special! 
2010
In 2010, beautiful Huggo's, on the water in Kailua-Kona, became our Breakfast with Bob home away from home during Ironman week.
2011
In 2011, defending champion Mirinda Carfrae stopped by for a chat.
A chat with the then two-time champion Craig Alexander from 2011, before he won his third world title.
2012
Julie Dibens poses for a photo after an interview in 2012
The 2012 Ironman World Champion Leanda Cave joined us on Championship Edition
2013
From 2013, a chat with the defending champion Pete Jacobs.
From 2013, a pre-race chat with uber cyclist Andrew Starykowicz

In 2013 we were joined by 8-time Ironman Champion Paula Newby-Fraser, who coached NFL Super Bowl MVP Hines Ward to an impressive Ironman finish.
2014
In 2014, Rachel Joyce joined us to chat about her 2nd place finish the year before.
2014 World Champion Sebastian Kienle signs our commemorative Breakfast with Bob skateboard.
From 2014, a chat with Mirinda Carfrae, who was looking to defend her title and to get her third Ironman World Championship victory.
2015
Defending champion Sebastian Kienle in 2015
Rachel Joyce finished in 2nd in 2015 and joined us on Championship Edition.
The Olympic Gold Medalist, Jan Frodeno won his first Ironman World Championship in 2015 and joined us on Championship Edition to talk about his race.
2016
In 2016, we moved our filming of the show to On the Rocks.
Michelle Vesterby chatting on the show in 2016
Defending champion Jan Frodeno and 6-time champion Mark Allen in 2016
Jodie Swallow poses for a photo before her interview in 2016
In 2016, we moved our post-race Championship Edition to the Four Seasons Resort at Hualalai.
In 2016, back-to-back women's Ironman World Champion Daniela Ryf talked with us on Championship Edition about her second victory.
In 2016, German Patrick Lange put his stamp on the Ironman World Championship with a record-breaking 2:39:45 marathon and a third place finish.
2017
Join us for our 2017 edition, October 9th – 13th, and Championship Edition on October 15th.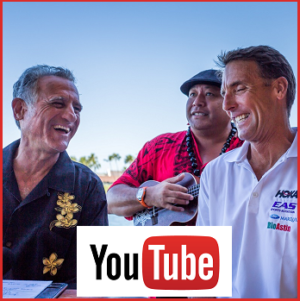 What have been some of your favorite Breakfast with Bob from Kona moments over the years? We'd love to hear from you!