2018 was the 40th anniversary of the Ironman World Championship, and I took a look back at each of my years at the Hawaii Ironman, starting in 1980 on the island of Oahu. I missed the first two years, 1978 and 1979, but since 1980, I haven't missed a World Championship.
In honor of the 40th in 2018, I created a countdown of each year – from my experiences as a participant in the early 80s, to my early years covering the event as a journalist, through my many years covering the race at Competitor Magazine and publisher of the official race program, to the early days of the Ironman LIVE broadcast, and on up to the launch and continuation of the Breakfast with Bob show. Here's Part 1, Part 2, Part 3, and Part 4.
It's time to update the countdown as we now celebrate the 2023 Ironman World Championship. Here's Part 5.
Part 5: 2018 – 2023
2018
After her 4th win in a row at the 2018 Ironman World Championship, Daniela Ryf joined me the next morning on our Championship Edition of Breakfast with Bob to talk about her record-breaking race. Daniela started her day facing unexpected challenges when stung by a jellyfish in the swim – which the pastry chef at Four Seasons Resort Hualalai memorialized in our traditional champion's sculpture.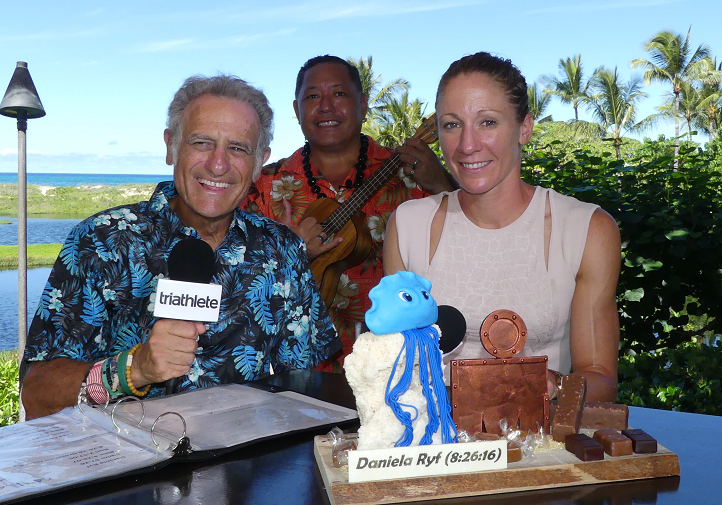 I spoke with Daniela about her mindset and how she dealt with adversity. Her mantra: Never Give Up.
View this post on Instagram
For the men, Germany's
Patrick Lange
won his second title as the 2017 defending champion. The
2018 Ironman World Championship will always be memorable for the back-to-back champion, who set an amazing course record of
7:52:39
, but the biggest reason may be for the moment at the finish line when he proposed to his girlfriend right after he won the biggest race of his life. 
One of the great stories from 2018 was the power duo of the Pease Brothers. Brent and Kyle are two brothers who would do anything for each other. Kyle was born with Cerebral palsy and Brent decided in 2011 that, like Dick and Rick Hoyt, they should race together. Our pre-race Breakfast with Bob interview remains one of my all-time favorites (and it features one of my favorite Poncho Man musical intros).

Here they are climbing Palani before heading out on the Queen K:
View this post on Instagram
2019
2019 saw the victorious return of Jan Frodeno, recapturing the top step and the world title after two rough years of setbacks and disappointment.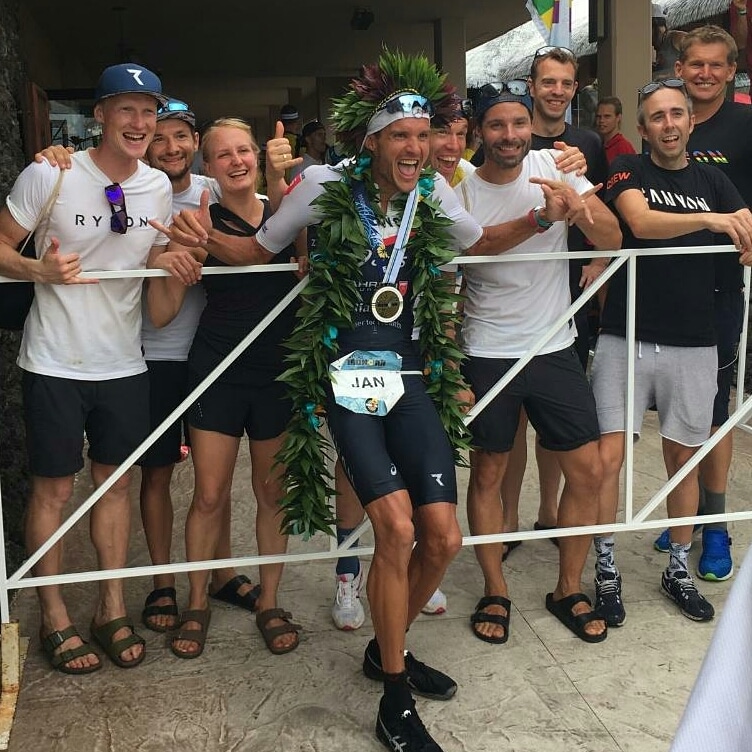 As Jan told us in our post-race Championship Edition interview, he felt like it was "that day" where everything went perfectly.
In the women's race, a new champion was crowned on a day where 4-time champion Daniela Ryf struggled. Anne Haug, of Germany, used her blazing speed on the run: 2:51:07, (the 10th fastest of the day) to claim the world title.
Here are Anne's reflections on the win from our post-race Championship Edition:
Another finisher in 2019 was Roderick Sewell who became the first double above-knee amputee to finish the Ironman World Championship.
Before the race, I chatted with Roderick and fellow Challenged Athletes Foundation ambassador Rudy Garcia-Tolson. Both of these remarkable young men have amazing backstories.
2020
Due to Covid, there was no Ironman World Championship in 2020.
Throughout the year, I recorded "Not Quite Kona" editions of Breakfast with Bob, including this classic interview with the great Sebastian Kienle. The two-time Ironman 70.3 World Champion, 2014 Ironman World Champion, and 2018 Challenge Roth Champion elaborated on his classic quotes, "When it comes to Kona, there is a fine line between being fit and f-ed." and "The more you hate yourself during the last 10K of an Ironman marathon, the more you love yourself at the finish." Sebi is the absolute best!
2021
After several postponements, we finally had another Ironman World Championship. The 2021 edition was actually held in 2022, on May 7th, and for the first time ever, held off the islands of Hawaii, in St George Utah.
Kristian Blummenfelt visualized it, then actualized it, becoming the first world champion from Norway.
View this post on Instagram
And in living up to his reputation as Mr. "Must Watch TV" Lionel Sanders didn't back down, and battled all the way to the finish, overtaking Braden Currie in the closing meters to cross the line in second place. Here's our post-race conversation about his day:
In the women's race, we saw an emphatic Daniela Ryf claim her 5th Ironman World Championship. Daniela came into the race with some extra motivation, courtesy of her godson:
View this post on Instagram
2022
In October of 2022, we found ourselves finally back on the island of Hawaii for an Ironman World Championship. However, this year brought something new: two days of racing, with the women racing on Thursday, and the men racing on Saturday. We also saw two new champions: one a "surprise" and one an expected favorite.
Norway's Gustav Iden, in his Kona debut, was able to live up to all the expectations and claim victory, also setting the bar extremely high with a new course record of 7:40:24.
For the women, American Chelsea Sodaro claimed a triumphant win not only for herself, but also for the US and for moms everywhere.
In our post-race Championship Edition conversation we chatted about her memorable, life-changing day:
Claiming second place in 2022, Lucy Charles-Barclay got her – amazing – 4th silver medal at the Ironman World Championship. And young Sam Laidlow, in his Kona debut, showed he is someone to keep an eye on….


For me, one of the biggest highlights of Kona 2022, was Lauren Parker's finish.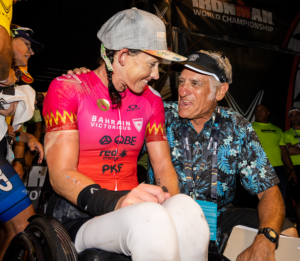 View this post on Instagram
If you are not familiar with the story: Lauren Parker had just turned pro in 2017 when she crashed on her bike during a training ride and was paralyzed. Since then, she has re-created herself as one of the world's greatest para-triathletes. 2022 was her first time back racing Kona since she finished 2nd in her age group in 2016 as an able-bodied athlete.
2023
In 2023, for the first time ever, the Ironman World Championship was held outside of the United States. And in another never-before occurrence, the men had their own race. On September 10th, the men raced in Nice, France. And, taking things one step further from 2022, Sam Laidlow claimed victory.
In Nice, Patrick Lange finished 2nd, Magnus Ditlev finished 3rd, Rudy Von Berg finished 4th, and Leon Chevalier finished 5th. Watch pre-race interviews with the top 5 here.
On October 14, the women will race in Kona for the 2023 Ironman World Championship.
In case you missed any of the rest of my look back at each of my years at the Ironman in Hawaii, you can catch up here: