From the January 2000 issue of Competitor Magazine
By Bob Babbitt
Klaus Barth
The moment is frozen forever. The head is tilted back as his eyes search the heavens. With his fists clenched and the mouth wide open, the expression is one of pure, unadulterated joy. I squint through the photographer's loop to check out the overhead clock in the photo from the 1986 Ironman. The time is 9:03:42. The place is fourth.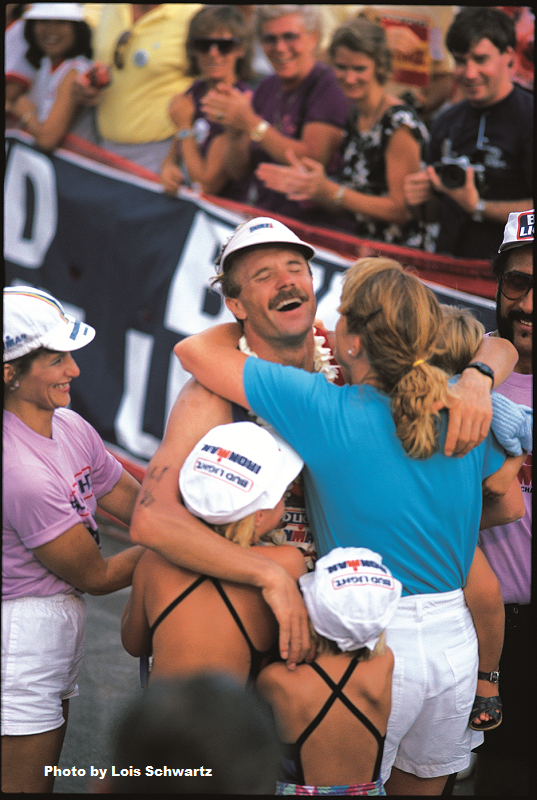 At the time Klaus Barth was knee deep in applause and adrenaline. His wife Sherri and the three kids were sprinting out from behind the barriers to greet him. The Long Beach Wilson High School swim coach had paid his Iron-dues in full. He collapsed nine miles into the run in 1984 while in ninth place. In 1985 he had finished eighth. When he showed up the following year, he expected to be wearing number 8 when he went to the line. That was the rule. Finish first, wear number 1 the next year. Finish second, wear number 2. Not this time, bucko. He was told that they looked upon the 36-year old's finish from the year before as a fluke, a combination of a lucky day and a weak field. "I said, 'What the hell, I finished eighth," he remembers. "They said 'Hey, nobody raced last year. We've set number 8 set aside for the right guy. That guy unfortunately is not you."
His race number come race day was 48. Not bad…but certainly not 8. He knew he was ready to go after a full summer of 150 mile rides from his home in Long Beach to Solana Beach and back, followed immediately by a ten mile run on the Long Beach Marathon course. His wife Sherri and the three kids knew that daddy was getting ready for the race of his life.
That's why Klaus Barth was so damn happy at the finish. Eighth place? Fuggedaboutit! Barth proved that eighth was indeed a fluke. He was a year older, 37…and he finished fourth. The only guys in front of him? Dave Scott, Mark Allen, and Scott Tinley.
Klaus Barth is looking to prove people wrong once again. He was hoping to do the Ironman this past October at the age of 50. But that dream was trashed when he had both hernia and knee surgery on July 3. It was the old tag team approach. Knock out the hyperactive Barth, have the hernia guy come in and take care of business, tag off to the knee specialist, and then have him do his thing.
Then something even more brutal came up. While Barth was in a meeting with his tax accountant one day, he suddenly collapsed to the floor with a grand mal seizure. He was about two minutes away from getting in his car and driving off to swim practice. If he had had the seizure in his car, there would be a good chance that Klaus Barth would not be alive today.
But he is and the fight is not over. The cause of the seizure? The doctors eventually found that, besides having the heart of a 20-year-old, he had a brain tumor the size of a gumball called a gliosclastoma multiforme, the beast of all tumors. It is a grade four out of four, the worst you can get. The surgery on October 5th [2000] took 6 ½ hours and the tumor was malignant. He finished 33 radiation treatments at an experimental program at UCLA in mid December and chemotherapy started in early January.
For the radiation the doctors strap a mask to his face and have him lie perfectly still. "They lock you in this room," he says. "First they close an 8-inch-thick door behind you. Then they close another 10-inch-thick door." He laughs. "It doesn't make you feel very good about what they are pumping into your body." An injection of gatalinin is followed by a new product called texaphyrin.
Whatever they pump in can't be any tougher than the guy they are pumping it into.  To get Klaus into the very tight UCLA Program, his wife Sherri sent a copy of the poster that Sparkletts Water had created of Klaus back when he finished fourth in Hawaii. She mailed it off to the doctors with a note that said: "My husband will make your study look good."
Klaus Barth was accepted the next week.
"I told the doctor that I'm going to be a great subject and a great guinea pig," he recalls. "I'm going to prove everyone wrong."
He has coached swimming for 18 years plus soccer and water polo. He knows what hard work, pain and commitment are all about. They put a line into his arm that has to stay there for almost seven weeks. "All I want to do is ride my bike," he says from his home. "I can't swim or lift or run. Right now, I can't lift five pounds." In order to maintain his brain functions, he is taking speech and memory classes and counting out loud every day.
One athlete he coached way back when was a high school kid named Tom Gallagher who eventually became a professional triathlete. "Gallagher told me was scared of me the first time we met," laughs Barth. Now they are the best of friends. They have pulled and pushed and prodded each other through any number of workouts and races. In 1987 they finished Ironman side by side. "We kept looking for the lead helicopter," says Barth. "We were hoping we'd finish in front of the first woman."
Keep hoping, boys. Erin Baker came steaming by the two of them a half mile before the finish. "She was flying," recalls Barth. "There was no way we could go with her."
On Halloween Gallagher, now a chiropractor in Long Beach, came by the Barth home. He rang the bell like any other trick or treater. His costume was one part trick and three parts treat. "The left side of his head was shaved just like mine," he remembers. "And he had a scar drawn on the side of his head right where mine is."
Tom Gallagher can't share the pain, put he can sure share the hope.
The fight could be a long one. Sherri, the kids, Tom Gallagher plus Klaus' legion of friends and former students know that all too well. "When I was out on the Ironman bike course, when things got tough, what got me through was thinking about you and the kids," Barth told Sherri more than once.
Times are tough again and the winds are howling. This time, in order to help Klaus Barth get through the hardest ride of his life, he needs all of us to think about him.
My gut tells me that Klaus Barth will prove the experts wrong, that he. will come out the other side and live to race again.
You can bet on it.
Editor's Note: Sadly, Klaus Barth lost his six-year battle with brain cancer (his doctors' gave him six months) and passed away on October 22, 2006 at the age of 57 – right after midnight on the day of the Ironman World Championship. Like every great Ironman, Klaus fought to make it to midnight.