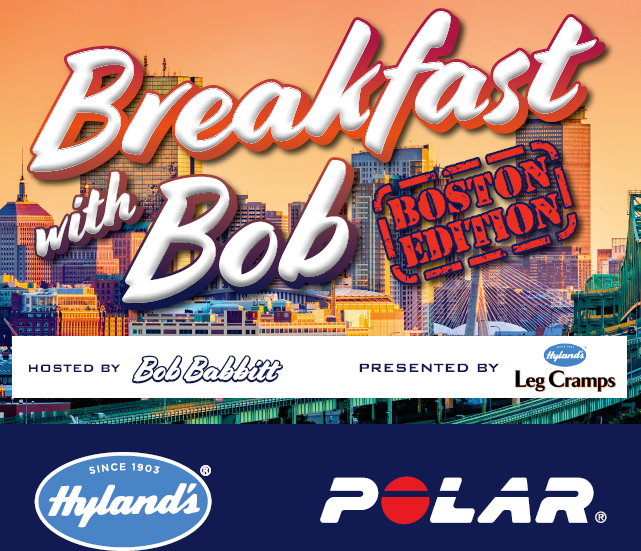 Join us for our 2018 Edition of Breakfast with Bob from Boston
Pre-race interviews filmed at the Boston Marathon Expo
Friday –  Sunday, April 13 – 15
Watch all the interviews on:


In Person at the Hyland's Booth at the Boston Marathon Expo (339 – 341)
Friday Line Up
All times Eastern. Schedule as of April 10
11:30 Michelle Ferre  Pocketful of Primary
12:00 Stan Brajer  from Polar
1:00 TBD
1:30:TBD
2:00 Jackie Baker & Kristin Clark  Girls on the Run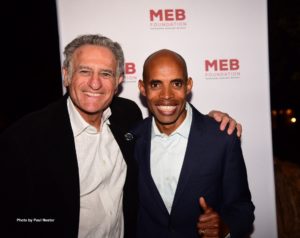 2:30 Meb Keflezighi 
Meb took home the silver medal in the marathon at the 2004 Olympics in Athens and he came back from a career threatening injury to win the 2009 New York City Marathon. Meb is also the 2014 Boston Marathon Champion. His win in Boston, which came one year after the bombings, is considered one of the greatest ever wins ever by an American marathoner
3:15 Ryan Hall
He holds the American Record for the half marathon with a 59:43, he is the only American to go sub 2:05 for the marathon (2:04:58 at the 2011 Boston Marathon) and is a two-time Olympian in the marathon, and he joined us on Friday to talk about his legendary career and memorable races.
3:30 Dr. Bryon Solberg
Bryon Solberg was born without the odontoid bone which protects the spine, and is the longest living person surviving with this condition. He has about 10% of the strength he once had in his legs, but despite that he has now run 108 marathons!
4:00 Stephanie Crook
Stephanie is a teacher who is training and racing with MS
Saturday Line Up
All times Eastern. Schedule as of April 10
9:30  Michael Wardian
Michael is an Ultra Running Legend and his 2:38 is the fastest marathon in history for someone in an Elvis outfit. He actually won the Rock N Roll Las Vegas Marathon dressed as Elvis!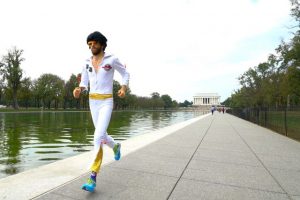 10:00 Jarrod Shoemaker and his mom May
Jarrod represented the US at the 2008 Olympic Triathlon in Beijing and he will be running Boston along with his mom
10:30 Lisa Bentley
11-time Ironman Champion, author, and inductee into the Triathlon Canada Hall of Fame
11:00 Caroline Rotich and her coach Ryan Bolton
Caroline won the 2015 Boston Marathon with a time of 2:24:55. Her coach Ryan Bolton was on the first-ever U.S. Olympic triathlon team in 2000.
11:30 John Young, AKA The Hammer, is the only athlete with dwarfism in history to complete an Ironman Triathlon. Check out this story about John: Marathoner with Dwarfism John Young to Run 12 Marathons in 12 Months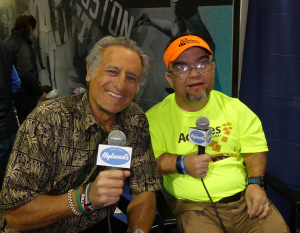 12:00 Pamela Nisevich-Bede
Pamela is an elite age group runner and triathlete as well as a nutrition expert at EAS
12:30 Tim Don
Tim is a three-time Olympian in the sport of triathlon representing Britain, a four- time ITU World Champion and in 2017 he recorded the fastest-ever Ironman Triathlon time with a 7:40:23 at Ironman Brazil. Last October, three days before the Ironman World Championship, Don was hit by a car while on his bike and suffered a broken neck. The Boston Marathon will be his first race back since breaking his neck.
LISTEN to our Babbittville Radio Interview: Tim Don
1:00 Mirna Valerio
Mirna is known as 'The Mirnavator' and her message is that running is for anyone and everyone.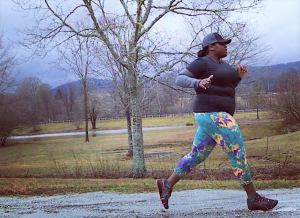 LISTEN to our Babbittville Radio interview: Mirna Valerio
1:30 Karen Smyers
Karen is one of the few triathletes in history to win both the ITU World Championship at the Olympic distance and win the Ironman World Championship.
2:00 Krige Schabort
2:30 Dave McGillivray
Dave is a running legend who is the long-time race director of the Boston Marathon. Among his amazing accomplishments is a streak of running the Boston Marathon every year since 1973.
Sunday Line Up
All times Eastern. Schedule as of April 10
9:30 Jon Dunham
Jon created and produced The Spirit of the Marathon films and his latest film is the spectacular Boston:The Documentary
10:00 Mary Beth Ellis
She is known as the'Honey Badger' for her terrific work ethic and she won eight Ironman titles in her career.
10:30 TBD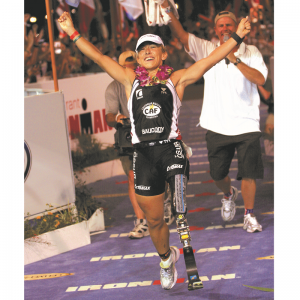 11:00 Sarah Reinertsen and Alec McManus
Sarah is the first single above knee amputee woman to finish the Ironman World Championship and she also starred on The Amazing Race. Alec is a local leg amputee who would like to get back into running.
11:30 TBD
12:30 Rachel Simpson from Let Me Run
1:00 Kevin Dua & Adam Welcome teachers from the Hyland's Powered Boston Marathon Team
1:30 Scott Jurek and Jenny Jurek
Scott is the seven-time winner of the Western States 100, the two-time winner of The Badwater Ultramarathon and a New York Times Best Selling author. His new book, which he co-authored with his wife Jenny, is called NORTH.
2:00 Brian Pfeffer & Rachel Rodriguez from Students Run LA
2:30 Dick Hoyt
Dick and his son Rick are Boston Marathon legends and there is a statue of the two of them on the Boston Marathon course. Dick and Rick also became the first father/son combo to finish the Ironman Triathlon World Championship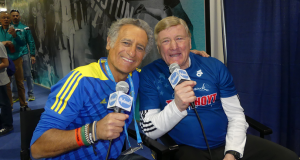 3:00 John Ladesic, Bethany Brown and Kimberly Van Acker  teachers from the Hyland's Powered Boston Marathon Team