2018 is the 40th anniversary of the Ironman World Championship, and I'm looking back at each of my years at the Hawaii Ironman, starting in 1980 on the island of Oahu. I missed the first two years, 1978 and 1979, but since 1980, I haven't missed a World Championship. Back in February, I started counting down each year – from my experiences as a participant in the early 80s, to my early years covering the event as a journalist, through my many years covering the race at Competitor Magazine and publisher of the official race program, to the early days of the Ironman LIVE broadcast, and on up to the launch and continuation of the Breakfast with Bob show.
Here are the last 8 years, bringing us to 2017, my 39th Ironman Hawaii, and getting us set for 2018:
Part 4: 2010 – 2017
2010
For the women's race, there was big drama on race morning as word spread that the 3-time defending champion Chrissie Wellington had pulled out when she was too sick to start.
After her impressive Ironman debut in 2009, when she finished in 2nd place, Mirinda Carfrae ran a course record 2:53:32 to make up an 11 minute deficit after the bike and win her first Ironman World Championship in 8:58:36. Caroline Steffen finished in 2nd, and Julie Dibens finished in 3rd, after throwing down a 4:55 bike.
For the men's race, it was the year of "The Handshake." Germany's Andreas Raelert ran through the field and caught Chris McCormack at about mile 22. They ran side-by-side for three miles, shared sponges and did their best to re-create the classic Mark Allen vs. Dave Scott battle at the 1989 Ironman.
"It's like Iron War," said McCormack to Raelert as they shook hands and moved ever closer to town. Allen got away from Scott on the last uphill on the Queen K Highway back in 1989. McCormack and Raelert crested that climb together, took a right on Palani, and started down the hill. McCormack, who was fighting cramps, dug deep and, when Raelert slowed down to grab fluid at an aid station, he surged away from Raelert. Andreas Raelert looked to be the fresher runner as they ran side-by-side, but the reality was that he had burned way too many matches closing the gap to McCormack and had absolutely nothing left.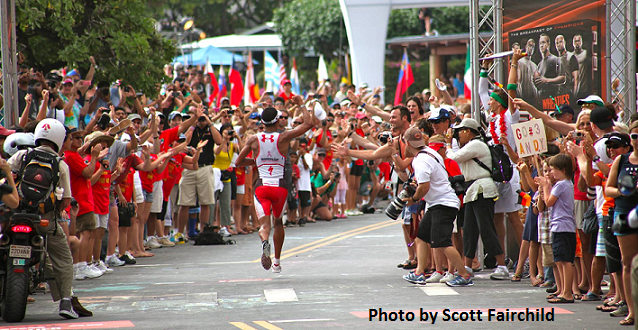 After over eight hours of racing, the gap at the end was only 1:40, 8:10:37 to 8:12:17. Chris McCormack ended up with his second Ironman World Championship title, Andreas Raelert was 2nd, and Marino Vanhoenacker finished in 3rd in 8:13:14.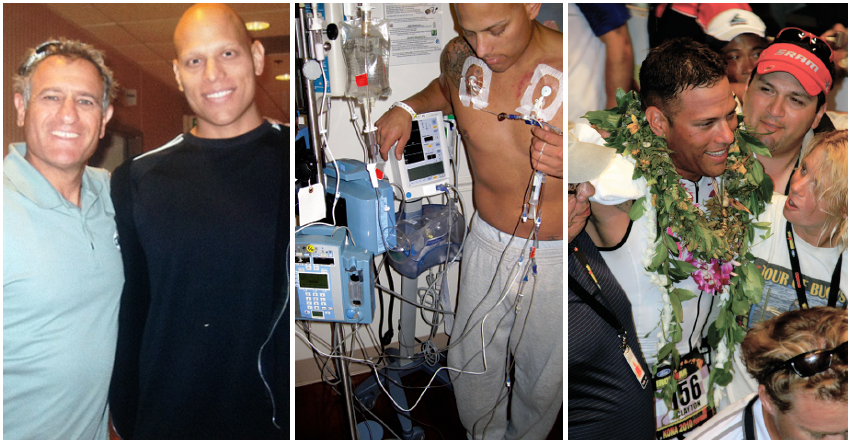 At the 2010 Ironman World Championship, there was a very special moment shortly after 10:00 pm when Clay Treska crossed the finish line, something that seemed completely unimaginable just a few months prior. I wrote about Clay's journey from a cancer death sentence to the Ironman finish line in Kona…The Sweetest Kiss
2011
2011 was Chrissie Wellington's 4th and final Ironman World Championship. We chatted a week after that final race in Kona in 2011. Chrissie came into the race just two weeks after a bike crash, facing lots of adversity and unknowns. I asked Chrissie what she learned from her epic final race. Here is her response: Never Ever Give Up
Listen to full interview here:
Read more on Chrissie Wellington's Final Kona
In 2011, Craig Alexander returned to the winner's circle, getting his 3rd world title, after winning twice in a row in 2008 and 2009.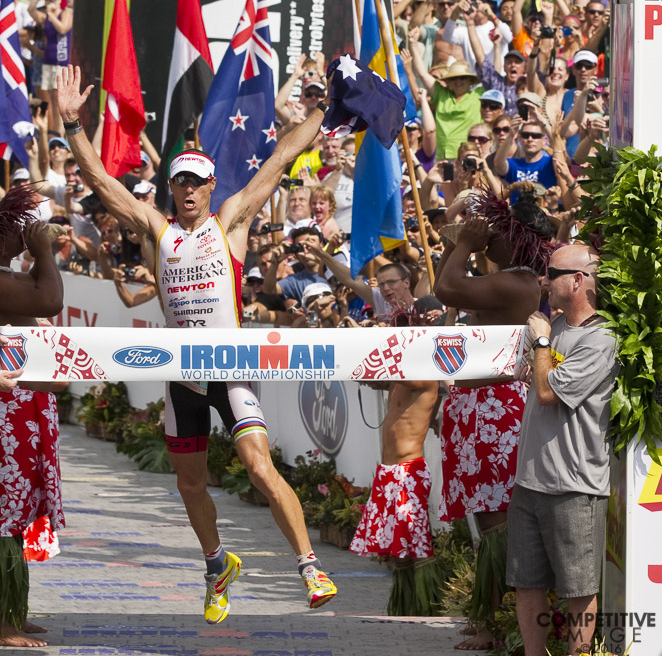 Craig Alexander had immediate success on the Kona Coast. He took second in his first attempt in 2007 and then won in both 2008 and 2009. His game plan was simple: Stay within striking distance during the ride and then use his great running skills to win.
But going into the 2010 race, fellow Aussie and 2007 champion Chris McCormack came up with a plan of his own. "Craig is a front of the pack swimmer," he insisted. "He is also the best runner in the heat in the sport. His one weakness is on the bike in the crosswinds out by Hawi. If everyone in the lead group works together to push the pace during that tough out and back section between Kawaihae, Hawi and then back to Kawaihae, we might be able to put some time on him. If we don't, he's going to win his third title in a row."
It was obviously worth the risk. McCormack's plan worked to perfection and Alexander was too far back off the bike to catch McCormack and ended up fourth, a little over six minutes back.
If you are a champion like Craig Alexander, you learn to adapt and change your game plan. In 2011, for the first time Alexander was wearing an aero helmet and was actually dictating the pace on the bike. His bike split in 2010 was 4:39:35. In 2011? 4:24:05, over 15 minutes faster than the year before. He had run an amazing 2:41:59 in 2010, but despite going so much faster on the bike in 2011, he only lost a few minutes off his marathon time and ran 2:44:03.
In 2011, Craig Alexander became the first man to win the Ironman 70.3 World Championship and Ironman World Championship in the same year, he went 8:03:56 to break Luc Van Lierde's course record from 1996 by 12 seconds, and he joined an elite club with his third Ironman World Championship title.
I chatted with Craig Alexander a few days before the race on Breakfast with Bob:
Few photos from the 2011 Awards Banquet….
2012
Pete Jacobs and Leanda Cave were victorious in 2012.
We chatted with both on Breakfast with Bob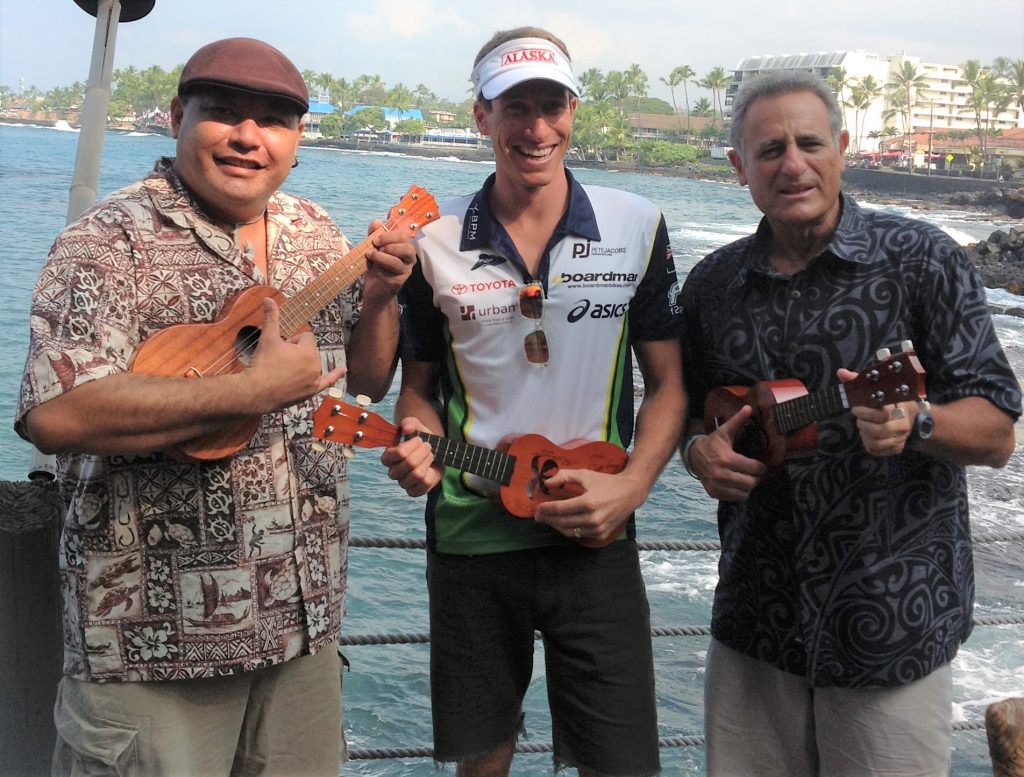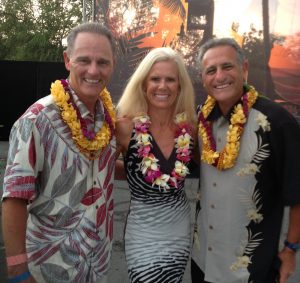 2012 was the 30th anniversary of Kathleen McCartney's memorable win in February 1982. Kathleen and Julie Moss raced again in 2012, and they were featured as one of my spotlight stories at the Welcome Dinner.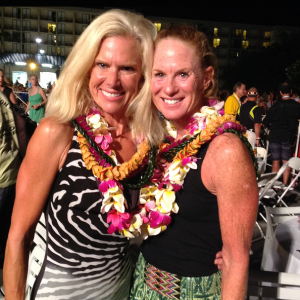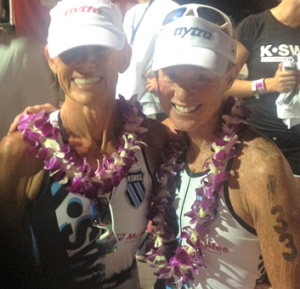 Kathleen McCartney and Julie Moss at the finish of the 2012 Ironman World Championship, celebrating the 30th anniversary of their historic race in February 1982.
Leanda Cave, the 2012 Ironman 70.3 World Champion and Ironman World Champion joined me on our 2017 Breakfast with Bob show and talked about how she stays motivated after winning the two pinnacle races in her sport. A very honest discussion from Leanda on the emotional realities of being a world champion and some of the ups and downs on the quest for the perfect race.
2013
Mirinda Carfrae won her first Ironman World Championship in 2010, and after finishing 2nd in 2011 and 3rd in 2012, she made it back to the top step in 2013 to get her second world title. To get that second win, Rinny added to her legendary status with a 2:50:38 run, one of the fastest of the day overall.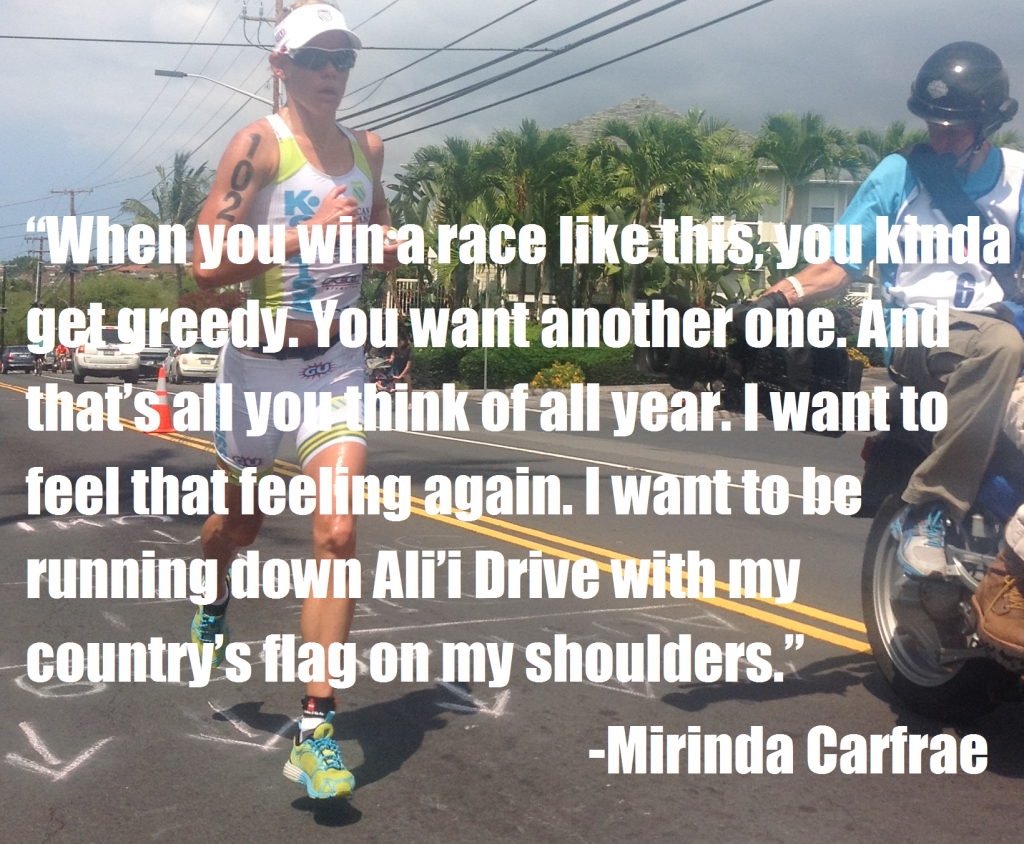 Mirinda Carfrae joined us on Breakfast with Bob a few days before winning the 2013 Ironman World Championship
In 2013, Frederik Van Lierde became the second person ever from Belgium to win the most important race in our sport at the Ironman World Championship, after Luc Van Lierde won in 1996 and 1999. Frederik's life changed after that day, no matter where he was in the world….
Frederik Van Lierde joined us on Breakfast with Bob in 2015 to talk about what the win meant to him, and how he works to try to get another one….
2014
In 2014, Mirinda Carfrae was 14:32 back off the bike and in eighth place when she uncorked a course record time of 2:50:26 to catch the long-time leader, Daniela Ryf. The gap between the two at the end? A mere 2:02. Listen as she talks about facing some mental struggles on the way to pulling off that performance…
I wrote about Mirinda's race in 2014 and featured it in our Kona Countdown: Don't Give In To That Voice
Daniela Ryf of Switzerland had just won the Ironman 70.3 World Championship the month before the 2014 Ironman World Championship. As a multiple-time Olympian, under the tutelage of Coach Brett Sutton, she found that she had a natural talent to go long.
After a great swim and bike, Ryf was off on the marathon in first with Mary Beth Ellis, Jodie Swallow, Caroline Steffen and Rachel Joyce giving chase.
Mirinda Carfrae, the defending champion with two wins to her credit on the Big Island, was 14:30 back as she exited transition.
That's a tough spot to be in as the defending champion and a lot of ground to make up. Sometimes your air conditioned condo sounds like a much better option.
"If you give in to that voice," she says, "and quit and go home, how much pain is that going to put you in, knowing that you gave up, knowing that you gave in and knowing that you're soft? That's going to be much more pain than going through the pain of finishing the race. So I would prefer to be in agony and finish and say I did everything I could. I can go home and be happy with myself and look myself in the mirror. Or, if you give in to that voice, then it's months of agony. It's months of torture and torment knowing that you didn't give it your all."
Mirinda Carfrae did not quit and she obviously gave it her all.
Carfrae broke her own run course record that day, going 2:50:26, and passing Ryf for the win with about four miles to go. "I'm over the moon," admitted Carfrae afterwards.
Who wouldn't be? She won her third title, had the third fastest marathon of the day overall, broke her own run course record, overcame the biggest deficit in Ironman World Championship history, went 9:00:55 and edged out Ryf by a mere 2:02, 9:00:55 to 9:02:57.
Sebastian Kienle finished 3rd in 2013, and moved up two steps to become the 2014 Ironman World Champion. Running down Ali'i Drive and crossing the finish line in first was an unforgettable moment, and one he will cherish for the rest of his life. But the true emotion of winning didn't completely set in for Sebastian until he was back home in Germany and could celebrate with friends and family…as he told us:
The 2014 Ironman champions Mirinda Carfrae and Sebastian Kienle joined us on Breakfast with Bob, filmed at Huggo's:

Mirinda Carfrae joined us on Breakfast with Bob in 2014 a few days before winning her 3rd Ironman World Championship
Sebastian Kienle joined us on Breakfast with Bob in 2015 as the defending champion:
2015
Jan Frodeno and Daniela Ryf both won the Ironman World Championship for the first time in 2015.
When I chatted with Daniela about winning the Ironman, she talked about how it sometimes seemed like it was just a dream:

We chatted with both champions the day after their victories on our post-race Breakfast with Bob Championship Edition.
Daniela Ryf, 2015 Ironman World Champion
Jan Frodeno, 2015 Ironman World Champion
In 2015, Ironman World Champions Heather Fuhr (1997) and Lori Bowden Chestnut (1999, 2003) were inducted into the Ironman Hall of Fame. They stopped by Huggo's to join us on Breakfast with Bob to talk about their careers, racing and training together, and what it means to them to be members of the Ironman Hall of Fame.

2016
In a repeat of the previous year, both Daniela Ryf and Jan Frodeno won the 2016 Ironman World Championship, making them both back-to-back Ironman World Champions.
Daniela Ryf described her second Ironman World Championship race as "the perfect day," and her course record 8:46:46 would back that up. For Jan Frodeno, though, the race was at times a struggle, and as he described it, there was a very thin line between success and failure…
Both Jan and Daniela joined us on our post-race Championship Edition of Breakfast with Bob to talk about their races.
Jan Frodeno, 2016 Ironman World Champion
It may not have looked like it from the outside, but Jan had some rough patches and did not have the perfect day that some may have assumed he was having. Great insight from Jan on his race. Jan told us how special this win was now that he is a dad and could share the finish with his son. Jan also talked about why he loves racing Sebastian Kienle, who finished in second place: "these battles get the best out of you."
Daniela Ryf, 2016 Ironman World Champion
Daniela Ryf won her second Ironman World Championship title in a row, and in her words, had a perfect day. She joined us to talk about why it was such a perfect day. Daniela also reflected on her season, explaining that this year she felt less pressure coming in to Kona than last her, when she was still trying to get her first World Championship title.
One of the things I love the most about the Ironman Triathlon World Championship are the stories of perseverance and determination that unfold in the lava fields each year. At the awards banquet after the race in 2016, I shared three stories that illustrate the Anything is Possible spirit of the Ironman: Stories from the Lava Fields of Kona: BJ Christenson raced with a broken collar bone, Hector Picard showed us that nothing would stop him from finishing the toughest day in sport, and father and son team Jeff and Johnny Agar spent an inspirational day attempting to make it through the swim, bike, and run together.


2017
For the champions, 2017 was a year of superlatives and records. In 2016, Patrick Lange finished 3rd in his debut in Kona, but made his name known by breaking the marathon course record held by Mark Allen since 1989, with his 2:39:45. In 2017, Patrick became the Ironman World Champion, with another incredible run (2:39:59), finishing in 8:01:40, breaking Craig Alexander's course record of 8:03:56. For Daniela Ryf, she became the 6th person in history to win the Ironman World Championship three times in a row. (Dave Scott, Mark Allen, Paula Newby-Fraser, Natascha Badmann, Chrissie Wellington)
Patrick Lange on Championship Edition of Breakfast with Bob
Daniela Ryf on Championship Edition of Breakfast with Bob
In 2017, one of the most emotional stories wrapped around the Ironman World Championship was that of Mike Levine and his life-saving connection to the February 1982 Ironman.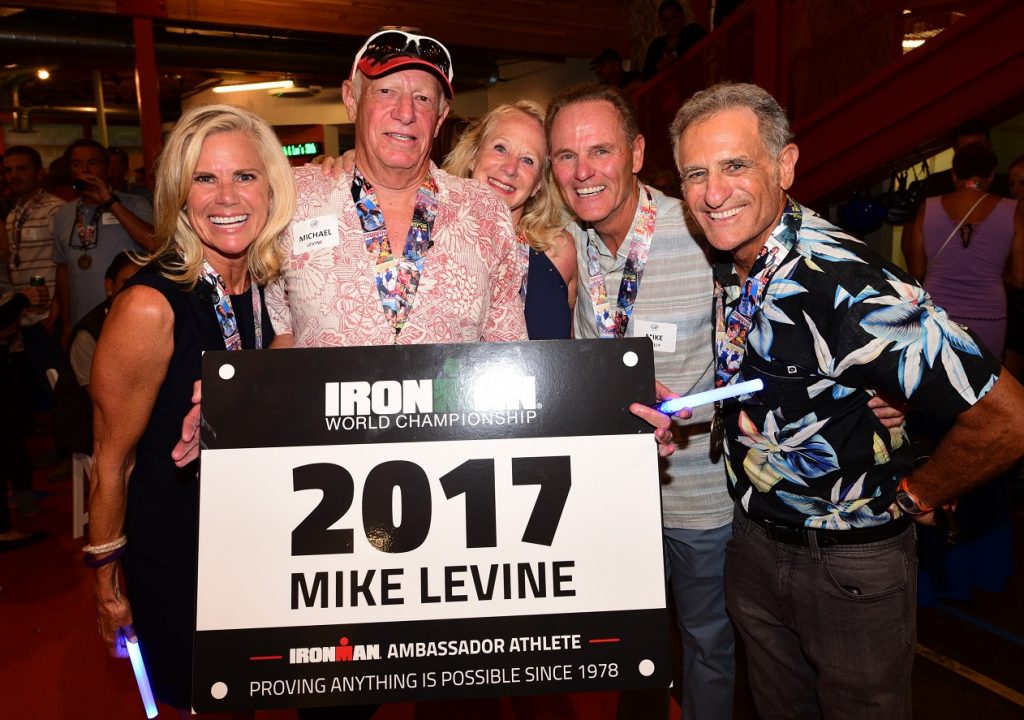 Mike Levine watched Kathleen McCartney on ABC's wide world of sports win the February 1982 Ironman in her epic race with second place finisher Julie Moss.
He was so inspired Mike ended up racing Kona in both October of 1982 and in 1983. He has done over 100 triathlons since then.
In July of 2015, he was diagnosed with stage 4 pancreatic cancer and given 6-9 months to live. He had whipple surgery where parts of six organs were taken out of his body and was told to get his affairs in order.
In December of 2016 his wife Jan put together a farewell party for Mike since he would soon be going into hospice and she asked me to invite some of the triathlon legends of the 1980's to come to the party. John Howard, Julie Moss, Ken Souza and others showed up, but Kathleen McCartney couldn't make it. Instead, the person who inspired Mike to get into the Ironman back in the 1980's suggested they go for a bike ride. Mike was lying on the couch waiting to die, but he got himself out of the house and rode all of three miles with Kathleen. The next thing you know, they were training together every day and Kathleen was going with Mike to his chemo sessions. His lungs cleared up, he got stronger and stronger and once again we witnessed the power of the Ironman.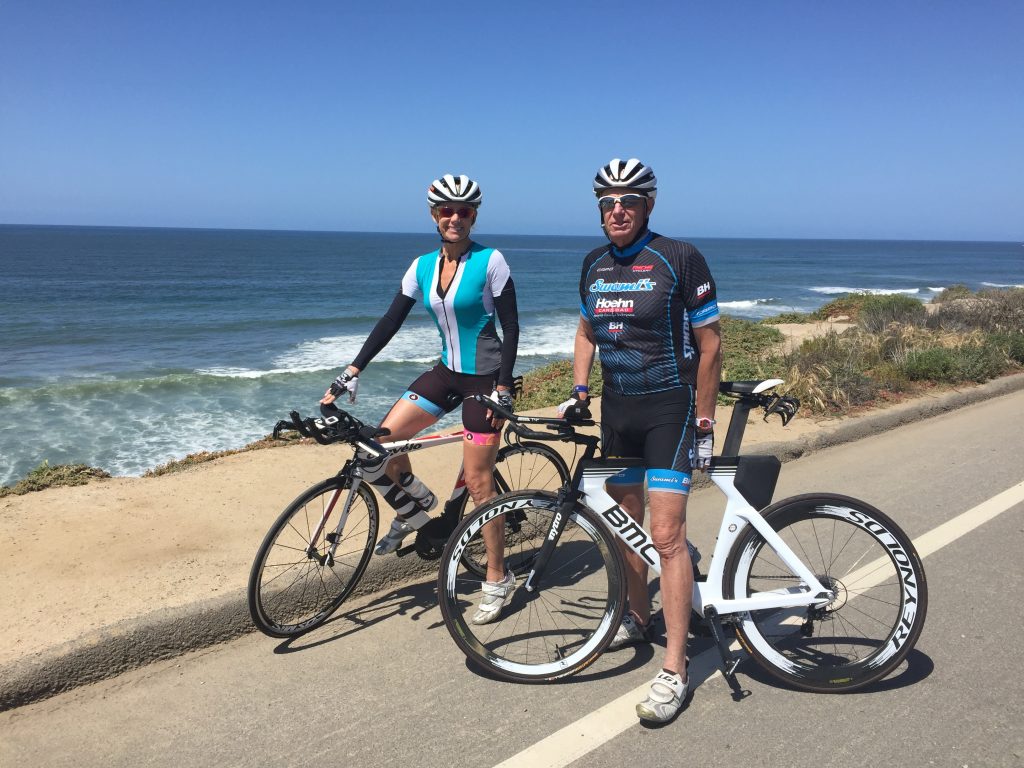 On June 29th Ironman surprised Mike with a spot in the 2017 Ironman World Championship.
On October 14, 2017, they got through the swim and finished 53 miles of the bike ride.
The key to life is to live every day as if it's your last and to never, ever let anyone tell you what you can't do. Just getting to the starting line in Kona proved that Mike Levine, with Kathleen's help, is well on his way to beating this horrific disease.
From my first Ironman in 1980 on Oahu, up to my 39th Ironman World Championship in 2017, I've seen many changes, but I believe there is a lot that has stayed the same. There is still that unmistakable spirit of the Hawaii Ironman that flows through every year and every finisher.
Long-time race director and Ironman World Championship finisher Diana Bertsch described it well: The Ironman becomes a part of who you are for the rest of your life…
In case you missed any of the rest of my look back at each of my years at the Ironman in Hawaii, you can catch up here:
Get updates from the 2018 Ironman World Championship on Facebook, Instagram, and Twitter