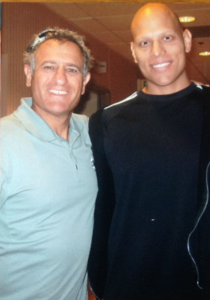 I was interviewing cycling coach Chris Carmichael for the Triathlon Club of San Diego back in 2009. In the audience, there was one person who stood out from the rest. His skin was pasty, his t-shirt seemed way too big for him, his eyes were sunken deep into the sockets and he was wearing a surgical mask. He approached Chris and I after our presentation and introduced himself.
His name was Clayton Treska and he had been a 290 pound Marine Staff Sergeant who could bench press north of 450 pounds. I've seen photos and the guy was huge. He had been attracted to endurance sports since he was a child, but he pursued weight lifting because it seemed a better fit for his body type and personality.  "I always told myself that one day I would do an Ironman Triathlon," remembers Treska, "but it was one of those impossible dreams that a lot of us have as a kid, like when we decide that one day we'll become the President of our own country. Sort of a pipe dream, you know?"
While in the Marines, Treska had been diagnosed with and treated for stage one testicular cancer. During his recovery, he took up cycling, running, and swimming and trained to do a short-distance triathlon. During his training, he lost some weight, but he was getting sharp pains in his lower back. During his follow-up visits to the oncologist, Treska mentioned the back pain and the doctor insisted he was probably overtraining and it was definitely muscular pain, nothing more.
On July 25, 2009, during another follow-up meeting with his oncologist, everything changed. They discovered a baseball sized tumor on his clavicle and the cancer was back. This time, though, it was much worse. He was told that his cancer was all over his body and was now stage 4, which is as bad as it gets.
"I was upset," he remembers, "but when you are in the Marines and you have been to Iraq, you have already accepted the fact that you have signed on to put your body in harm's way and you could die at any time. My main concern was not the diagnosis, but the fact that I had to tell my mom and dad that I had terminal cancer. One minute I was fine and in remission. The next minute I was dying."
So what do you do when life gives you lemons and you're told that you have very little time left on earth? That's simple. You go online and sign up to race the Ironman 70.3 in Hawaii in June of 2010, less than a year after your diagnosis.  While a few of us might be left scratching our heads, signing up for an Ironman event made perfect sense to Treska. "I needed to stay positive and I needed everyone around me to stay positive," he insists. "Setting a goal, even if it was unattainable, seemed like the absolute right thing to do at the time. If I'm terminal, I'm going to do what I want to do, which was the Ironman 70.3 in Hawaii."
Treska's father, through a friend of a friend, connected with Lance Armstrong's physician, Dr. Lawrence Einhorn, and he recommended an experimental treatment where they would harvest some of Treska's own stem cells, put him through torturous rounds of chemotherapy, and then do a bone marrow transplant with Treska's own stem cells.
Treska was in his own private hell, living in the hospital. When I went to visit him once, the former 290 pounder was hovering at 155.
He hadn't committed to doing the Ironman 70.3 for himself, but for everyone else on the ever growing Team Treska. People heard about his plight and sent him notes and emails imploring him to follow his dream. "Getting letters from people you don't even know telling you that you are inspirational is life changing," he says. "I wasn't doing the training for myself, but for everyone else. When someone tells you that you are going to die and there is nothing you can do about it, it's almost a good thing. You now wake up each day with one goal and one goal only: to survive."
His training started with him walking very slowly, along with his IV stand and with tubes sticking out of basically everywhere, around the nurse's station. By his calculation, it was 36 laps to the mile.
When he did his slow walk through the hallways, it was torturous at first. "Getting my blood flowing was good, but those first five minutes were awful," he says. "I'd really suffer. But I learned that suffering for five minutes felt a lot better than suffering for five days. It felt so much better just to get up and move."
The reality of the situation was that everyone in the clinical trials ward was expected to die and the hardest thing for Treska was not to show the awful depression he was going through to anyone outside of his own four walls. "There were times it was so horrible," he says. "I was 30 years old and I was in so much pain I'm saying to myself 'If I'm going to die, just let me die already.' It was awful. I'm telling people I'm going to do this Ironman thing while I'm lying in bed in a diaper because I can't control my bowels."
In between the treatments, Treska was able to get outside to ride, run, and swim. He had no idea if he could actually finish the Ironman 70.3 in Hawaii in early June. He was still living in the hospital when, along with 23 members of Team Treska, flew off to the Big Island. "I told the doctors I was going to Hawaii for an event, but I kept things vague. I was healthy enough to go outside and train, but not healthy enough to leave the in-patient ward."
He was healthy enough to complete the Ironman 70.3 Hawaii in 7:28:34. "In my mind, I was competing against cancer that day and it was the most beautiful feeling in the world," he insists.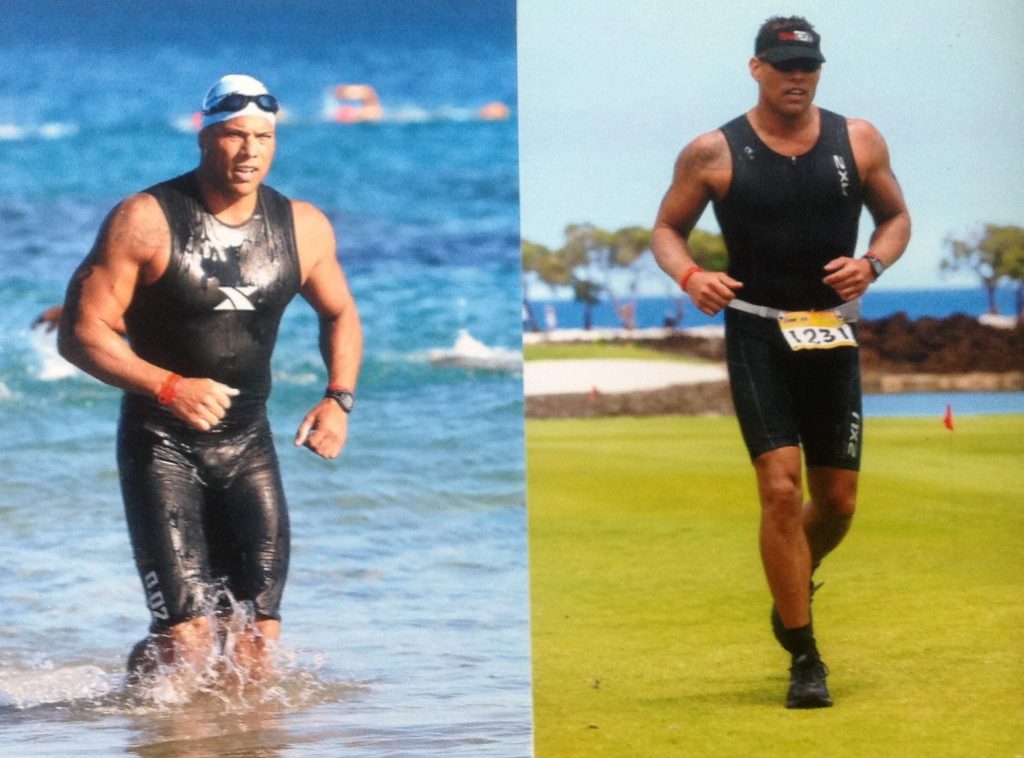 After finishing the 2010 Ironman 70.3 Hawaii, Clayton Treska was invited to participate in the Ironman World Championship four months later and his story became part of the NBC TV show. He finally moved out of the hospital for good on August 25, 2010, finished Kona in 15:16:58 and got an M-Dot tattoo on his calf.
It was the culmination of an amazing journey. In the 15 months since being give a death sentence, he had literally gone to hell and back.  When he crossed the Ironman finish line in Kona, he dropped to his knees and kissed the ground. "It was the sweetest kiss," insists Clayton Treska, "that these lips have ever had."
Editor's Note: This piece appeared in my Never a Bad Day column in Triathlete Magazine, April 2014
We featured Clay Treska's story for our 2017 Kona Countdown:
Listen to the Babbittville Radio interview with Clay Treska here.