For our 2020 Kona Countdown, we asked you to share some of your favorite Kona Moments. We're counting down 50 days to what should have been the 2020 Ironman World Championship in Kona on October 10, 2020.
Part 5
10
Just ten days left in our 2020 Kona Countdown. Today we're featuring one of my favorite stories. It's from Michael Collins, son of Ironman founders John and Judy Collins.
If you've been to one of my presentations, or read my editorials, you probably have heard me tell this story: Never A Bad Day….
View this post on Instagram

Read the full story here: Never a Bad Day
9
In honor of today's full moon, today's Kona Countdown is dedicated to all the Ironman World Championship athletes who completed their Ironman journey under the light of the moon. For years, the October full moon has lit the marathon course and guided the late night finishers.

Here's something I wrote about one of the Final Hours finishers at the 2004 Ironman World Championship:
Alone in the stark darkness along the Queen K highway, Dr. Ed Wolfgram kept stumbling over the orange pylons. Once, twice, three times the 71-year-old St. Louis psychiatrist fell. When the pylons weren't his enemy, it was the drainage ditch running parallel to the highway. The Queen K is infamous for swallowing triathletes whole, sapping their energy, then frying their minds. There's the howling Mumuku winds, the bleak, black lava rocks, and the seemingly endless stretches of nothing.
But if you think the Queen K's daunting by day, imagine the ghosts that creep out when the sun sets behind the Pacific. When you've already swam 2.4 miles, biked 112, and your brain wonders if you can run 26.2 miles in time to beat the midnight deadline. When only the stars, moon and a glow-in-the-dark necklace issued by volunteers can guide you back to civilization.
Of that eerie setting, Wolfgram says, "You're almost in sensory deprivation."
One thousand, seven hundred and twenty-nine nervous and anxious triathletes dove into Kailua Bay for this year's Ironman Hawaii; 149 did not finish; 134 finished between 10 p.m. and midnight, when the scene along Ali'i Drive resembles the Big Island's version of the Mardi Gras.
The mood is equal parts celebration and spiritual revival. Thousands of fans line the street — particularly the final 250 yards — standing 10-15 deep, filling the bleachers, screaming, yelling, ringing cowbells and celebrating the triumphs of their athletic heroes. Klieg lights illuminate the finish as speakers blast rock-n-roll, hip-hop, funk and soul. Native Hawaiian dancers wearing floral attire and grass skirts hula dance to the hypnotic beat of the drums. Volunteers hype the mood by tossing out freebie T-shirts, caps and watches. Mike Reilly, the voice of Ironman, greets the triathletes with his signature line, "Ed Wolfgram … you … are … an Ironman!"
Wolfgram has been chasing that Ironman high for years now. He was 48 when the exercise bug hit. He was a successful doctor. Many of his peers, while burying themselves in their careers, were unknowingly burying themselves period.
"They were having strokes, coronary bypasses, diabetes, hypertension and obesity," he says. "I could see I was headed for a fate like the others."
So Wolfgram started jogging. He built up to road races; and by age 53, he caught the tri bug. He even wrote a book: It's Never Too Late: Dr. Ed Wolfgram's Book of Fitness.
Wolfgram completed his first Ironman at 55. He crossed the finish this year at Kona in 15 hours, 32 minutes, 6 seconds. Of the 10 Ironmans on his resumé, nine have come at Kona. Now into his eighth decade, Wolfgram practices yoga, Pilates, and lifts weights in addition to the swim-bike-run. Being fit, not finishing first, is his goal.
"People who have beaten me before are not around anymore," he says, not specifying whether they've passed on to the big triathlon in the sky or they just no longer race.
"One of my specialties is I've survived," he adds with a devilish smile. " I have not yet peaked."
8
From Indianapolis 500 Champion, Tony Kanaan….
How special is the Ironman World Championship? Here's Tony, with his thoughts:

Check out the full interview with Tony Kanaan on our Breakfast with Bob Kona Edition 2020 here.
7
From Chrissie Wellington, on her final Kona, her final, and greatest battle at the Ironman World Championship:
Here's something I wrote about Chrissie's final Kona: The Fight 
It was the toughest call she had ever had to make. Three-time Ironman defending champion, Chrissie Wellington, was forced drop out the morning of the 2010 race with a viral infection. Mirinda Carfrae went on to win her first Ironman World Championship title.
So when Wellington crashed hard during a group ride two weeks before the 2011 Ironman World Championship and ended up with contusions on her hip and shoulder plus extensive road rash from her thigh to her lower leg, she and her coach Dave Scott weren't sure if she could even get to the starting line. Before the crash, Wellington knew she was in the best shape of her life heading into the 2011 race where she hoped to re-claim her title from Carfrae. In her mind, the last thing she wanted to do was not start the world's most important triathlon for the second year in a row.
To compound the issue, doctors thought she might also have a torn pectoral muscle. A few days before the race, she had to have her wounds scrubbed out to avoid infection. While her training pointed toward a 53 or 54 minute swim, she came out of the water with a big smile on her face in 1:01. This would be her 13th Iron distance race and she was undefeated. But this time she was not only injured, she was going up against a woman who was the defending champion and was considered the best pure runner in the sport.
Her margin of victory in 2007 had been about five minutes. In 2008 it was 15 minutes and in 2009 it had ballooned to nearly 20 minutes. This was a woman who was used to dominating everywhere she raced and had ever been challenged.
This Ironday would be much different. Off the bike she was 22 minutes behind the leader, Julie Dibens, and ten minutes back of Rachel Joyce and Leanda Cave. Her time at the end was 8:55 and her margin of victory on Mirinda Carfrae was a mere 2:49, her closest race ever in Kona.
"Those were definitely my proudest racing hours," Chrissie would say afterwards. "I was the last pro out of the water and came off the bike in sixth. I had to fight tooth and nail and I had never had to do that before. The fight is what I love, the fight is what I crave and the fight is what I got. Internally and externally I crossed that finish line physically and emotionally annihilated. I knew then that I was complete as an athlete."
That turned out to be Chrissie Wellington's last race.
6
From Clayton Treska….
In 2009, Clayton was diagnosed with Stage 4 cancer and given 18 months to live. In 2010, Clayton finished the Ironman World Championship…..and in many ways, his story was just beginning. Since then he's dedicated himself to changing the lives of others dealing with cancer.
Here's Clayton on finishing the Ironman World Championship:
Check out my interview with Clayton Treska on our Breakfast with Bob Kona Edition 2020 here.
5
Jim Howley: Changing Perceptions, Changing Lives
Is the Ironman much more than just another sporting event? Does the Ironman change lives? The answer to both is a resounding Yes!
4
When it comes to the Ironman World Championship and the number 4, I will always think of Klaus Barth: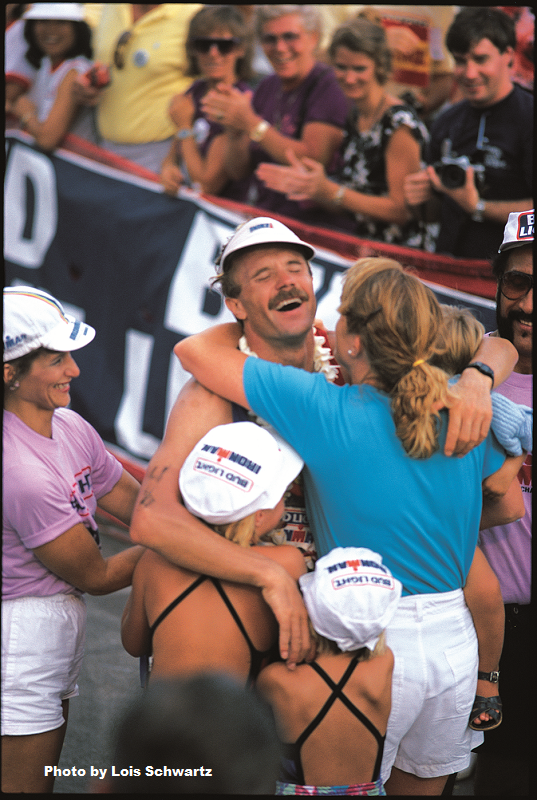 The moment is frozen forever. The head is tilted back as his eyes search the heavens. With his fists clenched and the mouth wide open, the expression is one of pure, unadulterated joy. I squint through the photographer's loop to check out the overhead clock in the photo from the 1986 Ironman. The time is 9:03:42. The place is fourth.
The Long Beach Wilson High School swim coach had paid his Irondues in full. He collapsed nine miles into the run in 1984 while in ninth place. In 1985 he had finished eighth. When he showed up the following year, he expected to be wearing number eight when he went to the line. That was the rule. Finish first, wear number one the next year. Finish second, wear number two. Not this time, bucko. He was told that they looked upon the 36 year old's finish from the year before as a fluke, a combination of a lucky day and a weak field. "I said, 'What the hell, I finished eighth," he remembers.
His race number come race day was 48. Not bad…but certainly not eight. He knew he was ready to go after a full summer of 150 mile rides from his home in Long Beach to  Solana Beach and back followed immediately by a ten mile run on the Long Beach Marathon course. His wife Sherri and the three kids knew that daddy was getting ready for the race of his life.
That's why Klaus Barth was so damn happy at the finish. Eighth place? Forget-about-it! Barth proved that eighth was indeed a fluke. He was a year older, 37…and he finished fourth. The only guys in front of him? Dave Scott, Mark Allen and Scott Tinley.
Editor's Note: Sadly, Klaus Barth lost a six-year battle with brain cancer (his doctors' gave him six months) and passed away on October 22, 2006 at the age of 57.
3
From Domenico Trudu, Sardinia Italy:
"I have been in love with the Ironman World Championship since the early 80's …But, living in the middle of nowhere in Sardinia, Italy, inland, very far from beaches, no swimming pools, living a simple life as one "bravo ragazzo,"  I started dreaming of taking part in the race in Kona I saw in newspapers.
Then I grew up trying to understand how to start doing triathlons, there was no internet , no social media, life was different.
My first triathlon in Sant'Antioco was in 1997, then my first long distance triathlon was in Nice in 1999, then Ironman Austria in 2000, and just one month later the long distance worlds in Nice again.
Business, family, daughters with me and my wife… I completed 15 Ironmans, never loosing hope to go to Kona … Then the call: my goal was achieved in 2017 when I became an Ironman World Championship finisher.
That was an incredible experience and sadly dramatically the last race of my life: Just after that race I discovered I was cardiopathic, and my triathlon career ended."
You can see all of this in this photo….

2
From Brent Pease:
"How about my man Kyle Pease finally realizing a dream and following in the foot steps of the legends Rick & Dick Hoyt!"
And Gregory Smith:
"My favorite Kona Moment is the 2018 finish line of the Pease Brothers coming home."
I totally agree – I love everything about Brent and Kyle Pease, a legendary team of brothers. The Pease Bros left an indelible mark on the Ironman World Championship in 2018 with their memorable race, with Brent helping Kyle experience the greatest race in our sport.

Here's Brent and Kyle climbing up Palani early in the bike during the 2018 Ironman World Championship
1
From 11-Time Ironman Champion Lisa Bentley:
Crossing the finish line with Carter in 2007
"I had an achilles injury that I managed for many years until it blew up in 2007. I walked half the marathon at Ironman Australia in May and then took two months off from running and did some serious re-habilitation. I raced Subaru Ironman Canada on three runs per week with a long run of 90 minutes after no running in May and June. I squeaked out a win at Subaru Ironman Canada and made a promise to Dave, my husband, that that was my last Ironman because it hurt my achilles too much.
But then I received an email from Beth, Carter's mom. She had kept in touch with me because her son, Carter, had Cystic Fibrosis as well. He was 6 years old, loved sports, and he wanted to be healthy too. She sent me an email in September hoping that my achilles was healthy enough to race Kona because Carter had contacted the Make a Wish Foundation. His wish was to cross the finish line with me at the Ironman World Championships. And they granted his wish. The entire family was flying to Kona and Carter was given the "OK" to run down the finishing chute with me. I just had to do one more race – one more Kona!
And so of course I was going to race! My entire career was built on doing the best you could with your deck of cards and offering hope to families with CF that CF was not a death sentence! 
And so, I sought out my dream team – my sports doc, chiropractor and physiotherapist and we "put Humpty back together again." And I raced and I very happily crossed the finish line with Carter. And yes this is my career highlight as well as my favorite Kona moment.
My goal in sport was to inspire others to do sport and to show what you CAN do with CF or any other "handicap." It was not my best finish but it was my best finish! Two people with CF should never touch because of infection risk. But for that moment, there was only hope and celebration."
Watch a recent interview with Lisa here:

Check out Part 1 here.
Check out Part 2 here.
Check out Part 3 here.
Check out Part 4 here.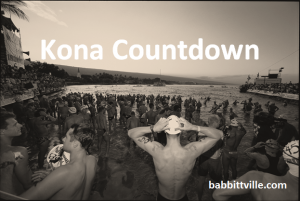 Check out some of our Kona Countdowns from the last five years here.