For our 2020 Kona Countdown, we asked you to share some of your favorite Kona Moments. We're counting down 50 days to what should have been the 2020 Ironman World Championship in Kona on October 10, 2020.
Want to share one of your favorite Kona Moments? Do so here: KONA COUNTDOWN SUBMISSIONS
Part 1
50
From Thomas Hamilton:
So many great memories of the 2005 Ironman Kona World Championship: meeting Natascha Badmann at the poster giveaway (first in line!!), meeting Karen Smyers on a swim prep, racing alongside Sarah Reinertsen for a short time on the run, etc. etc. etc. At the end of the Parade of Nations, I chanced upon Ken "Cowman" Shirk, and we snapped photos of the other snapping photos!!

Ken "Cowman" Shirk was one of those, shall we say, unique characters who was part of the early days of the Ironman. He was one of the finishers at my first Ironman, on Oahu in 1980.
In a feature I wrote about Scott Tinley's 1985 Ironman, I reflected on Cowman and what he represented to the Ironman…..
Every time I look at this one particular image, it makes me laugh. Technology, money, media, and the masses were coming fast, but the classic image of Cowman on the bike wearing his miniature cow horns in the same frame as the eventual champion never gets old. Even 35 years later, it continues to capture the spirit and define the event known as Ironman.
Scott Tinley is on his way to winning his second-ever Ironman World Championship in 1985, wearing his own line of funky clothing and devoid of his trademark mustache. Back then there were no other Ironman events in the states. This was long before Lake Placid, Panama City, Coeur d'Alene, Madison, and Tempe. Yeah, there were a few Ironman events around the world but Kona, then and now, was still the whole enchilada.
The sport was growing, but still incredibly small. Nowadays the leader of the Ironman World Championship is always surrounded on all sides by television helicopters, officials, sponsors, spotters and media vehicles. Back then? It was ST and our convertible, with myself, my business partner Lois Schwartz, the world's greatest sports photographer, and the driver. No one else was in the same zip code.
As Ken Shirk, aka Cowman, approached on his bike, Schwartz captured this classic image of Cowman heading toward the finish of the ride with Ironman champion Tinley running toward the finish.
We didn't think much of it at the time, but the photo symbolizes what the Ironman had always been about. John and Judy Collins, Ironman's creators, had always envisioned fast guys and gals up front battling for the win while average, everyday folks joined them on the same roads simply to do something they thought was impossible.  Read more….
49
From Duane Franks:
I have a few Kona highlights going back to my first time racing in 1982 and then improving my best time by over two hours in 1999 at the age of 40. Another is when one of my athletes, Kathy Winkler won her age group in her first time in Kona in 2001. It was completely unexpected.
But I always get a good chuckle when I recall how six-time Ironman World Champion Dave Scott went toe-to-toe with the late comedian, Arte Johnson at the pre-race banquet in 1983. Arte was emceeing the program and taking stabs at Dave. At one point, he teased, "Hey Dave, what are going to do when you have to get a real job?" Dave just looked at him and quipped "Well I have a lot of hot air, maybe I'll be a comedian." 
I remember that banquet. Ironman, and the Big Island, in the 80s had a free-wheeling vibe, and stars from Hollywood loved coming to the island as a way to escape the fast-paced mainland lifestyle.
Of course, the main thing I remember about Dave and the 1983 Ironman World Championship is that epic 33-second finishing gap between him and Scott Tinley….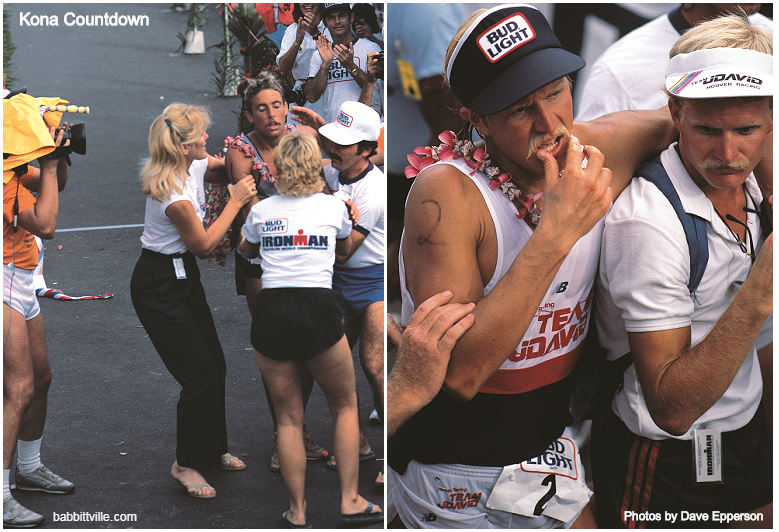 33 SecondsIn February of 1982, Scott Tinley came to Kona and knocked off Dave Scott in his first encounter with him at the Ironman. Dave Scott was second. In October of 1982, they reversed roles and Dave Scott won with Tinley in second.  In 1983, Dave Scott outswam Tinley by six and a half minutes and Tinley returned the favor by out splitting him on the bike by nearly seven minutes. During the marathon Dave Scott built up a lead, but toward the end of the run the wheels started to come off of the Dave Scott Express. Tinley realized too late that first place was now just up the road and as he sprinted down Ali'i Drive, he could actually see Dave Scott staggering across the finish. Dave Scott finished first in 9:05:57. Scott Tinley finished 33 seconds back in 9:06:30. To this day it is still the second-closest finish for the win in the history of the Ironman World Championship.
Do you know the closest? I'll give you a clue: it's one of my top all-time greatest Ironman moments.
48
From Toughman Triathlon's Rich Izzo:
Underwear Run hands down by Paul Huddle
Who doesn't love the Underpants Run….and really, who doesn't love Paul Huddle? And while there are plenty of images floating around of Paul Huddle wearing tighty whities and carrying a bullhorn leading the Underpants Run in Kona….we chose this classic image by the great Lois Schwartz, from the November, 1992 issue of Competitor Magazine of Paul Huddle demonstrating one of the foundational principles of the Underpants Run: when and where it is OK to wear a Speedo….

Did You Know?
The Underpants Run was created in 1998 by Paul Huddle, Chris Danahy, and Tim Morris as a protest against wearing Speedos in inappropriate places. What started out as an underground event with a few dozen participants has grown into an official Ironman Week event, and has raised over $325,000 for local Big Island charities. And while there will not be an Ironman World Championship this year, there WILL BE a virtual Underpants Run this year. Info can be found here.
Paul Huddle was my long-time radio show co-host on The Competitors. If you were a listener, you probably remember his "What can you bench?" question for most of our guests. A few years ago, I "interviewed" Huddle on Babbittville Radio: LISTEN here.
47
I met this Ironman athlete in Kona this past October when I was waiting for CAF athlete Roderick Sewell to finish a training run. Beatrix introduced herself and we chatted about her bike crash and resulting injuries, just six weeks before Kona. I was incredibly impressed with Beatrix and her determination to finish.
From Beatrix Cser:
"When you can be weak because you have been strong….
The most honest picture ever. Just tells everything: pure feelings of all the suffering in my life blended with the joy and happiness of finishing the Ironman World Championship. Honored, grateful, with my best friend.
Exactly six weeks before the 2019 Ironman World Championship, I was lying in a hospital bed after a bike crash with brain bleeding and a concussion. The doctors said no training for at least eight weeks. But I am stubborn and dedicated. 
I found my way back to training. Easy? It wasn't. I was scared. But as my dad used to say: Anything is possible if there is a will. So just 6 weeks after my bike crash: 5th place at the Ironman World Championship in Hawaii. Very grateful for everybody who helped me on this path, my family, my friends, and my coach. I could not have done it without all of you. This is Ohana, which was this year's spirit at the race."
46
From Santiago Mendonça, from Brazil:
"This photo was taken in 2018, my third time in Hawaii…in 2014 and 2016 I did the race as a competitor. But in 2018 I had the opportunity to see the race from another view: volunteering with IRONMAN and meeting Bob and Poncho Man and watching Breakfast with Bob at Huggo's On the Rock's. 2018 was my favorite time on the Big Island."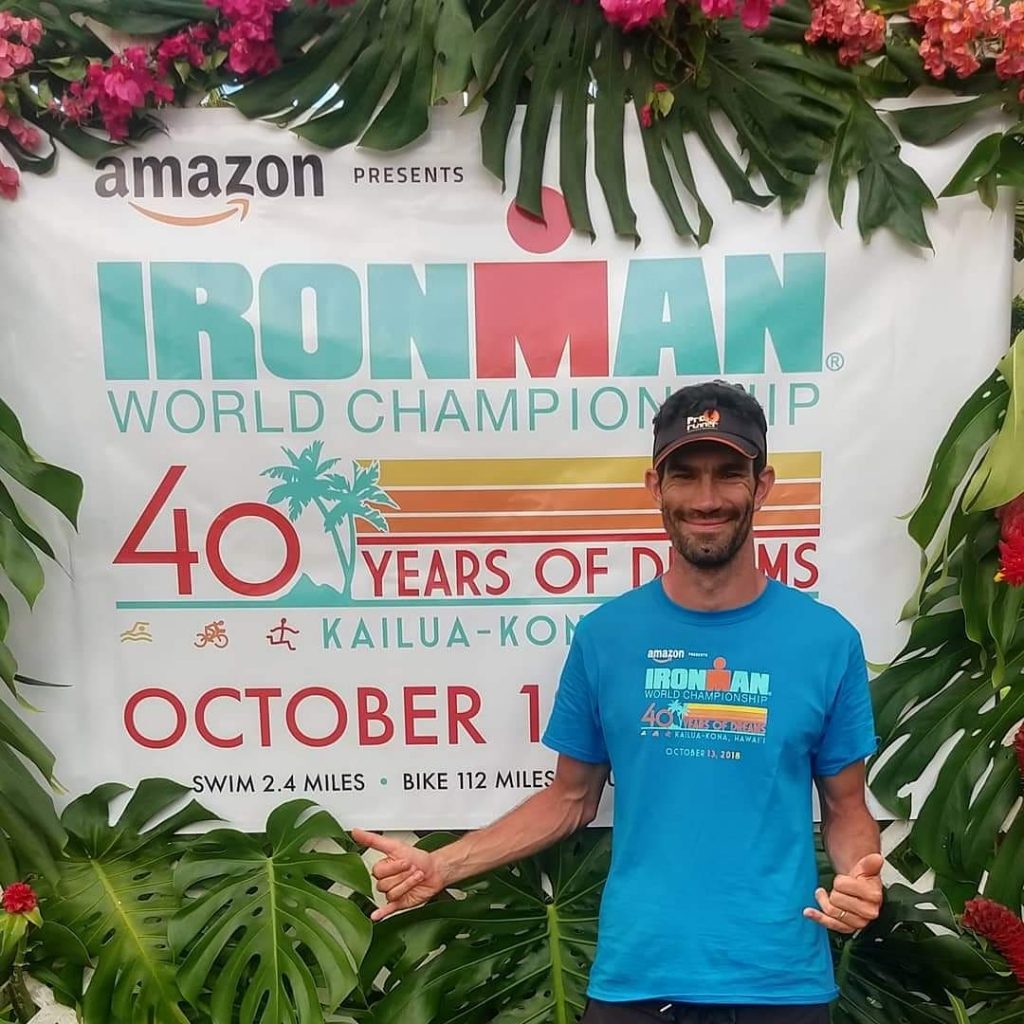 Thanks Santiago! I agree – getting to meet so many awesome people who join us at On the Rock's for Breakfast with Bob is one of my favorite parts of Ironman week in Kona. And I can't wait to get to do it again in 2021.
Here's one of my favorite Breakfast with Bob interviews from 2018, that features one of my favorite pieces that Poncho Man has played over all the shows:
Brent and Kyle Pease are two brothers who would do anything for each other. Kyle was born with Cerebral palsy and Brent decided in 2011 that, like Dick and Rick Hoyt, they should race together. Their first Ironman was in September of 2013 at Ironman Wisconsin and this will be their first attempt to complete the Ironman World Championship.
45
From Gerry Rott, race director Lavaman Triathlon:
"As the Finish Line Director for the Ironman World Championships for 18 years, I had many favorite moments from a Volunteer's perspective.  Out of all of these though, I think my favorite was the first year that Mark Allen won.  I had met Mark's dad and step mom several years before as each year they would come out for the race to watch Mark and root him on, but they would not stop there.  They would help with Bike Check-in on Friday, Transitions on Saturday morning, Finish Line on Saturday night, and Clean-up on Sunday.  They would even bring their own gloves on Sunday.  We became good friends over those years and each year we would wait behind the Finish Line for Mark to finish.  For 6 years, they waited patiently with no victory.  Then finally, the 7th year we were sitting in the VIP bleacher behind the Finish Line and it was apparent that Mark was going to finally win his first Ironman World Championship.  It also happened to be their wedding anniversary and there could have been no greater gift than the pride they felt as Mark crossed the Finish Line and they were there to greet him and give him his lei.  For me it was a chicken skin moment, I will not forget.  I gladly excused them from the Sunday Clean-up that year, although I bet they would have come had I needed them."
44
Today's Kona Moment comes to us from legendary actor Sean Astin, who finished the Ironman World Championship in 2015. This is from our recent Breakfast with Bob: Stay Home Edition interview that we filmed during the covid quarantine. Sean takes us through some of the advice that Coach Matt Dixon gave to him and captures the unique, magical essence of the Ironman beautifully….

43
From Roderick Sewell, the first double above knee amputee to finish the Ironman World Championship:
"The finish line at midnight is my favorite. After so much work, we are all together to celebrate a great journey."
From Breakfast with Bob at the New York City Marathon, filmed on November 1, 2019:
Roderick Sewell
just became the first double above knee amputee to finish the Ironman World Championship. His background and journey to the Ironman is just as epic as his accomplishment in Hawaii. We chat about his day in Kona and what's next.
42
From Brad Ellis….
"I haven't had the honor and privilege to compete at Kona nor see it in person, so my experiences are based on media accounts. Even so, the following moment went straight to my heart and has been a guiding inspiration ever since in my own personal quest to reach Kona. I titled my personal blog "Touch the Line" because of this moment. Any time a finish line is crossed, I consider it a sacred and cherished moment. It is particularly meaningful to me given Bill Bell's passing earlier this year.
The following is an excerpt from the NBC broadcast of the 1995 Hawaii Ironman. The words below were spoken by narrator Al Trautwig to describe the images on screen."
"It is five minutes after midnight.
The bell has tolled. The deadline past.
Yet the Ironman credo still holds – finish. Just finish.
It lives in 72-year-old Bill Bell, who is cramped and dizzy, yet drawn to it.
Drawn to it.
It pulls each of them to this tiny island year after year.
To witness the Ironman.
To be an Ironman.
To finally … touch the line."
I totally agree with Brad…the words and narration by Al Trautwig are spectacular, and chill-producing. The Ironman TV show over the years gave us so many beautiful, meaningful moments, and helped build the mystique around the Ironman World Championship in Kona.
I also agree with Brad on this segment  having even more meaning this year with the passing of the endurance legend: Bill Bell. I wrote about the great Iron Gent: Remembering Bill Bell
And I'll leave you with this sound bite from an interview with Bill, that I've used on our Kona Countdown in the past:
View this post on Instagram
41
From Kevin Lannerd, who was struck by this tear-jerking scene from the 2004 Ironman TV program of Sarah Reinertsen, who was attempting to become the first above knee female amputee to finish the Ironman World Championship….but missed the bike cut off. These show Sarah right after she came into the transition area and was facing the reality of not finishing.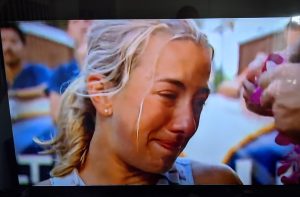 It was an absolutely heart-breaking moment, but what I love about Sarah, is it wasn't about how she got knocked down, but it was all about how she picked herself back up. Sarah re-dedicated herself to training, and a year later, had one of the greatest Ironman World Championship finishes of all time. She puts it perfectly in this sound bite:
View this post on Instagram
LISTEN to an interview with Sarah here.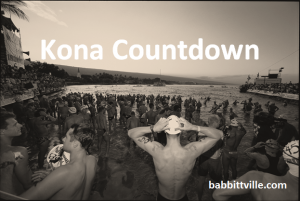 Check out some of our Kona Countdowns from the last five years here.