For our 2020 Kona Countdown, we asked you to share some of your favorite Kona Moments. We're counting down 50 days to what should have been the 2020 Ironman World Championship in Kona on October 10, 2020.
Want to share one of your favorite Kona Moments? Do so here: KONA COUNTDOWN SUBMISSIONS
Part 3
30
From Dan Aamodt:
"In 1993, I raced Kona for the first time. In T2, I specifically remember making the dumb decision not to put on socks for the run. After all, I was vying for 805th place and couldn't spare the precious seconds it would take to put on socks! Ha ha…
After 7 or 8 miles on the run, I noticed my heels were burning and bleeding from blisters forming from not wearing socks. I eventually finished the race, with bloodied shoes and insanely sore feet. I still have the scars on my heels…. 
So, fast forward to 2013, when I was lucky enough to participate in Kona again 20 years later. When I came into T2, I made sure those socks were on! While I was running through town, my family was waiting to cheer me on at around mile 10 (near the bottom of Palani). When I approached my family, I see my 12-year-old son, Sam, waving his hands with his socks in the air, yelling 'Dad, do you need my socks? Take my socks!' He had taken his socks off and wanted me to wear his so that I wouldn't have blisters… His selflessness is still the best Ironman memory I have had in Kona. It even trumps the first time crossing the finish line." 
29
On September 11, we're taking a look back at the 2001 Ironman World Championship, and American Tim DeBoom's memorable win….
The race was special. Being the first international sporting event after the tragedy of 9/11, the 2001 Ironman World Championship felt different. The athletes weren't even sure that the event would take place that year and most had a difficult time getting back to something as trivial as swimming, biking, and running after the attacks.
But when October rolled around, there they were and the race was full steam ahead. America's Tim DeBoom had lost the year before to his former training partner, Canadian Peter Reid, by a mere 2:09. As DeBoom ran through the final miles of the marathon in first place, fittingly the first American to win the Ironman since Mark Allen in 1995, the fans weren't cheering 'Go Tim!' They were cheering 'Go USA, Go USA!'
Here's Tim from last October's Breakfast with Bob talking about 2001….

28
Dave Epperson's Historic Photo Shoot
In March of 1989 I reached out to both Dave and Mark to do a photo shoot with them leading into the 1989 Ironman. In my mind, I was thinking this was the year that we were going to have a real race between the two of them. I would shoot them back- to- back for my Showdown on the Kona Coast cover of Competitor Magazine.
One small problem. Dave was in Davis, California and Mark was in Boulder, Colorado and, while they both agreed to do the shoot, neither was going to travel to make that happen.
"Have Dave fly here to Boulder," said Mark Allen.
"Happy to do it," said Dave Scott. "Have Mark fly here to Davis."
Neither would budge.
What could I do? I called ace photographer Dave Epperson, had him come up with a backdrop and drive to Davis to shoot Dave Scott posing with no one and then drive to Boulder to shoot Mark Allen posing with no one.
We put the photos together on the cover, but the guys weren't really together. Couldn't be. They were in training to make history.

27
An epic image from photographer extraordinaire, Rich Cruse
Rich reflects on the events of that day at the Ironman World Championship in 1995 and his photograph:
"I was on the motorcycle covering the race and the last time I saw Paula – about mile 15, she looked fine. That is why I headed to the finish line to get into position to capture yet another win for Paula. We could hear Mike Reilly say "She's on Ali'i Drive!" and we all waited, but no Paula! The next thing I know, Karen Smyers makes her way to the finish tape – winning her first and only Ironman World Championship.
"Where's Paula?" you could hear rumbling through the crowd. Karen looked concerned and pointed up the street. Someone whispered in my ear that Paula had collapsed up the street. I bolted up Ali'i with all my gear banging around and my fanny pack slipping down. About 300 yards up the street was a crowd surrounding Paula. She had collapsed and was disoriented. All she could say was "Don't touch me. I don't want to be disqualified." Her boyfriend Paul Huddle was there and he was trying to call an ambulance. Paula looked like she was dying. She was white as a sheet.
People kept telling me to get out of the way, but I stood my ground and said "This is my job. I know her and I am not in the way." I stood off to the side and did not interfere with the situation at all. It was determined that Paula was suffering from dehydration and heat exhaustion. When Paula skipped her water and energy drink, she took a risk and came so close to winning, but not today.
A smart-thinking course referee ran to a local restaurant and filled a giant mayonnaise bucket with cold water. He poured the bucket over her head, and it was like he was pouring liquid life back into Paula. It was amazing! Her color began to come back and she began to speak coherently. After another 5 or 10 minutes she was on her feet and to the delight of the crowd, she walked barefoot to the finish line- remarkably in 4th place!"
26
From Jim Bruckart:
"The offer to race Hawaii came in the form of an email, received while serving with the US Army on an airfield in Albania…something about validating in Switzerland and being over-40. My training was severely hampered that summer by assignment as a Peacekeeper in the Sinai desert. Swim training was a 25m pool that closed by late August due to dust storms and Run / Bike training were confined to a 3-mile loop on Base.
After traveling from Egypt to Germany to reunite with my family, I vividly remember the sweet smell of flowers and the oppressive humidity as I stepped off the plane in Hawaii, super jet-lagged. Open water swims at Dig-Me beach were a happy experience, but worrisome as they revealed my lack of swim fitness. My fears peaked on Friday when they set the course buoys – is it really that far? I knew I had the bike and run fitness to complete the day, but all for naught if I didn't make the swim cutoff.
My 'moment' came 48 minutes into the swim. That moment I realized sheer joy as I saw the water-level clock at the turn-around boat. No higher math needed to understand that 48 minutes meant I would be well within the time needed to complete my swim and earn my run up Ali'i Drive.
And so the day was sunny, windy, and hot, but within reach. I remember the cheers, smiles, and pictures at the finish; the cheer from the crowd as the Hoyts finished before midnight. A day in paradise that I will never forget and a moment of joy at 48 minutes that serves as a touch-stone moment when I need a personal lift."

25
Today we're celebrating Lucy Charles-Barclay's birthday.
Lucy is no stranger to our Breakfast with Bob Championship Edition – she's finished in 2nd place every year that she's raced as a pro: 2017, 2018, and 2019. Last year's race was memorable for her for several reasons and resulted in her getting Lola, a new four-legged best friend. Here are some highlights from our post-race chat last October.
Happy Birthday, Lucy!

24
Paula-Newby Fraser's Comeback and 8th Win
Paula Newby-Fraser had won in Kona seven times. The year was 1995 and, as usual, she built up a huge lead during the bike ride and looked to be on her way to win number eight. But something interesting happened on her way to the finish on Ali'i Drive. Newby-Fraser panicked during the marathon and stopped taking in nutrition. With about a half mile to go, the wheels came off the Newby-Fraser Express and Karen Smyers ran by her for the win, as Newby-Fraser staggered and then collapsed. After getting some fluids in, she walked to the finish in fourth place.
The most decorated Ironman in history showed that she was mortal.
So how do you come back from that? Easy. If you're Paula Newby-Fraser you decide that you are tired of dominating the bike and going off the front. The bullseye was always on her back. Why not the other girls lead the race for a change? "I wanted to mix it up with the other girls," she admitted.
During the latter part of the marathon, she was running with Iron Rookie Natascha Badmann.
"I was enjoying myself," said Newby-Fraser. "I knew that I was a good runner, so why not change things up a bit and try to win the race on the run rather than on the bike?"
And that's what happened. Newby-Fraser ended up winning her eighth and final title by flipping the script and ditching her tried and true win the race from the front formula.
"This was probably my most enjoyable Ironman ever. It was so exciting. I loved it. I came here to recapture what I love about this race. It was just such a privilege to be involved in such a competitive race."
"To be honest," she insisted afterwards. "I didn't care if I won today or not. Which is probably why I did."

23
The Equalizer….
After the drama of the Iron War race the previous year, in 1990, the drama came largely from the Big Island and the race day conditions. It was one of those brutal weather days, that took its toll. When I wrote about the race in Competitor Magazine, I titled my article: The Equalizer. At the Ironman World Championship, you can have the greatest athletes in the world at the peak of their game, but the heat and wind can be the great equalizer….
It started early. If you looked to the east, the sun was rising unimpeded over the mountain tops, the fluffy clouds of the past years only a faint memory. As it reached slowly over the edge, there was a brief respite, a catching of the breath, a final I-know-this-won't-last moment of life-giving shade before Old Sol's Big Island Sauna burst into view to hang out his "Open for Business" sign.
As the 1,300 triathletes warming up in Kailua Bay and on the banks of Dig Me Beach scanned the sky, they could almost see the outline of a menacing frown. It was payback time.
Kona 1990 was as close to Hell as any of the Ironman starters ever hope to get, with wreckage scattered all over the course. But that's what you get when the Mumuku winds start howling across the lava fields in all directions, destroying even the strongest riders physically, emotionally, and spiritually. That's what you get when you look up from your bicycle toward the Kohala Mountains and see nothing but a brilliant blue and cloudless sky. That's what you get when you pack your bike bag and travel to the Big Island of Hawai'i and dare tempt the Equalizer.
22
Some fun memories from Linsey Corbin….
This conversation is from 2016, when Linsey was getting ready for her 10th Kona. We talked about her first Kona in 2006 and Linsey shared some memorable experiences…
21
Groundbreaker….
In 1978, there were 15 starters and 12 finishers on the island of Oahu for the first Ironman. In 1979 the numbers were exactly the same with one important difference. In 1979, the first woman, Lyn Lemaire, went to the starting line. She not only was the first woman to complete and win the race, she also had the second-fastest bike ride of the day and finished fifth overall.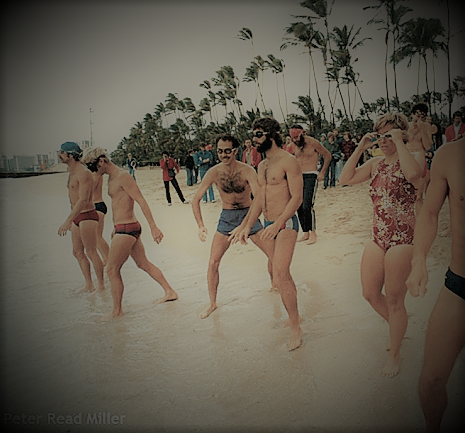 LISTEN to a race interview with this groundbreaking athlete here: Lyn Lemaire on Babbittville Radio.
LISTEN to an inteview with legendary photographer Peter Read Miller, who captured this historic moment here.
Check out Part 1 here.
Check out Part 2 here.
Check out Part 4 here.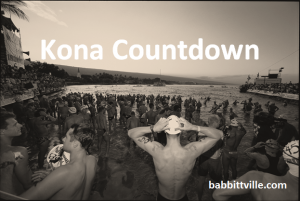 Check out some of our Kona Countdowns from the last five years here.