For our 2020 Kona Countdown, we asked you to share some of your favorite Kona Moments. We're counting down 50 days to what should have been the 2020 Ironman World Championship in Kona on October 10, 2020.
Want to share one of your favorite Kona Moments? Do so here: KONA COUNTDOWN SUBMISSIONS
Part 2
40
We're at 40 in our countdown….so I'll share my top Ironman moment, which happened 40 years ago: finishing the Ironman in 1980 on Oahu. It changed my life forever. I knew deep down that this sport, this event, was created to change lives for the better.
For a longer version of that day, check out my recount of my 1980 Ironman here: Always Keep Moving Forward
39
For today's Kona Countdown, we're celebrating the great Karen Smyers birthday today.
Here's Karen with a little bit of what that day was like for her in 1995 when she won the Ironman World Championship…..
38
From Fan Zhang:
"My one and only PB in Hawaii is 12:14:48, in my first ever Ironman distance race. It came at the October 7, 1995 Ironman World Championship. It was even more surreal that 22 years later I achieved my new PR at Ironman Arizona with an 11:47 in 2017.
In 1995, I was a graduate student working on my PhD dissertation at the University of Michigan with no money to pay for my trip that would typically cost north of $3,000. I was blessed by many kind people (friends, fellow graduate students, professors, local retailers in Ann Arbor incl. bike shops) who chipped in through a fund-raising effort. I relied on a second-hand TREK 2300 road bike to make it through in 90 plus degree heat and incredible windy weather in one of the tougher days, condition-wise (according to pros like Mark Allen and Jurgen Zack). Though I couldn't afford to hire any coaches guiding me with any systemic training blocks, I relied on reading multisport magazines [Triathlete, Inside Triathlon, Competitor Magazine] and figured it out myself with like 2+ months of training.
I was extra motivated to reach the finish line as the first and only triathlete to represent the then-1.2 billion people of China in the history of the Ironman World Championship (the next finisher from China came 15 years later, in 2010).
As shown in the picture, I was on Cloud 9 and leaped up to touch the finish arch. Like many first time Ironman finishers, it definitely changed my own perception of myself and gave me the conviction that once you have set up your goal, you can achieve it with your commitment and discipline."

37
Today's Kona Moment is from Peter Reid….
When Peter Reid of Canada won his first Ironman Triathlon World Championship title in 1998, it was a magical experience for him. But something felt different when he won his second title in 2000, beating his former training partner Tim DeBoom by a mere 2:09. "I won, but I wasn't satisfied," he recalls. "I crossed the line thinking 'that was too close.' I didn't sit back and savor the win. The next day I was already planning my assault for 2001. That was the beginning of the end."
He got back to training hard in November and never let up. By the summer his body started to fall apart. "I was so far into the overtraining syndrome that mentally, physically, emotionally and psychologically I was cooked," he continues. "I was done. I needed to get away and I didn't know if I was going to come back."
He ended up dropping out of the 2001 Ironman and had basically retired from the sport. He spent his days in the summer of 2002 flying around on his motorcycle over his former bike routes.
He was in Starbucks one day with donut crumbs littering his leathers. A good friend named Rob Hasegawa approached him. He had watched Reid spiral downhill to the point where he couldn't take it anymore. He placed an article by Mark Allen, '18 Weeks to Your First Ironman' in front of Reid.
"Peter," he said. "Go back to Hawaii and finish the damn thing. Then quit the sport with some closure."
It was 15 weeks until race day so he was already three weeks behind. Reid lost 25 pounds over the next 15 weeks and the love of the sport came back. With a smile on his face, he ended up second to Tim DeBoom in 2002 and in 2003 he came back again and won his third Ironman World Championship title.
"In the beginning, I just loved to mix it up with the big boys," he says. "Then I got to the point where I was scared to lose, where I was more worried about what my sponsors thought than following my passion."
At the end of the day, winning that third title in 2003 was great. But, to me, Peter Reid's second place in 2002 was way more important.
When we got together in Kona in 2016 to chat on Breakfast with Bob, Peter and I talked about his journey from that first, magical win in 1998, to his too-close-for-comfort second win in 2000, to his third win in 2003, and his most important race: that 2nd place in 2002….
Watch the full interview here
36
From Ken Strominger:
"Watching the Hoyts sprint past several competitors as they raced to the finish line is my favorite Kona Moment."
Here's father Dick Hoyt talking about racing with his son, Rick Hoyt:
View this post on Instagram
A little piece that I wrote about the Hoyts for our 2016 Kona Countdown….
As a dad, what would you do if doctors told you that your son Rick was a vegetable and that he should be institutionalized? If you're Dick Hoyt, you ignore the experts and prove everyone wrong.
They started with Dick pushing Ricky at short running events but quickly moved up to the marathon. The Boston Marathon in the early years wanted nothing to do with Dick and Rick Hoyt. To qualify to get into their hometown marathon, 40-year-old Dick had to run under 2:50, a time that would qualify Rick, who was in his 20s. So they went to the Marine Corps Marathon and Dick pushed Rick to an unbelievable 2:45:23 and Boston was forced to let Dick and Rick into the event.
How things have changed!  Now there is a statue on the Boston Marathon course of the ultimate father and his son.
When it came to the Ironman, Dick would need to pull Rick in an inflatable boat, ride with Rick in a specially built seat on the handlebars so Dick could keep Rick fed and hydrated throughout the ride, and then push Rick in a jogger during the marathon. In 1989 they completed the swim in 1:54:06, their bike ride was 8:01:30 even though the combined weight of Dick, Rick, and the bike was 376 pounds. Then Dick ran 4:30:27 for the marathon while pushing Rick, for a finishing time of 14:26:04.
What would a father do for his son? If you're Dick Hoyt, that's simple: Absolutely anything!
35
From Axel Reusch:
"In the early 90s (I think it was my first Kona in 1992). I rode to Hawi the week before the race. It was hot and windy as it always is. So in Hawi I dropped in a store to refuel and met an older gentleman from Denmark, who was also competing. I congratulated him for taking part at his advanced age (he was in his 70s). He told me that it was the highlight of his athletic career: '…this… and being a part of the Danish water polo team at the 1936 Olympics in Berlin.'  My jaw dropped while I started calculating if that was even possible. Forgot his name unfortunately. I was deeply impressed. What a cool sport, a 25-year-old kid racing in the same race as a 70-ish-old gentleman."
34
Cory Foulk and the Joy of Jolly Ranchers
Dr. Cory Foulk lives on the Big Island, and a number of years ago he thought that the Ironman was getting a tad too expensive and people were losing site of the fact that it's not about the cost of the bike you ride, it's about the toughness of the person riding that bike. So what did he do? He qualified for the race and then rolled in his 65-pound Schwinn Typhoon that he had bought for $25. When he got to the transition area, he was told he couldn't bring a bike in that had a kickstand on it. He took the kickstand off, but then had to put it back on when the officials realized his tires were too thick to fit into the bike rack. He came out of the swim, put on his Hawaiian shirt, and rode 112 miles barefoot on his cruiser bike that had only one gear. He made all of the cut off times that day and proved that it's the athlete that matters at the Ironman, not what that athlete spends on equipment.
Cory tells us a bit about his day at the Ironman World Championship on his Schwinn…

Interesting side note: There is a rule now that you cannot ride a cruiser bike at the Ironman Triathlon World Championship. We call that TCFR, The Cory Foulk Rule!
33
Rocky Campbell: The Builder
The first year Rocky Campbell helped out with the Ironman World Championship was one of the first years the event was in Kona. "I was at an aid station from midnight to 4 a.m. After that year they added a midnight cutoff time. The next year, I helped at the pier."
Rocky has been a volunteer for nearly 40 years. For most of that time he was in charge of building anything and everything you see on the pier and at the finish line and then tearing it all down again.
Imagine: Campbell and his crew do not get access to Ali'i Drive until Thursday at noon. They have a day and a half to change a small street into a shrine, the most famous finish line on the planet. Several years ago, someone dropped the entire finish-line structure and it shattered into 100 pieces. This was on Friday and the team rebuilt it from scratch in just a few short hours.
"It looked good as new," recalls Campbell, who doesn't hesitate to admit that it was he who accidentally totaled the structure. "It just proves how great our team is." While he has seen the midnight finish a few times, by 3 p.m. on Ironman Day, he is having an early dinner before hitting the sack. By 4 a.m. Sunday morning, he and his team are breaking everything down on Ali'i Drive and by noon the road is open to traffic once again.
"It is still fun, and I have met wonderful people through the Ironman," says Campbell.
"The grip Ironman has on the people who race it is really something special."
Rocky was inducted into the Ironman Hall of Fame in 2018.
32
Today on our Kona Countdown we're honoring 2013 Ironman World Champion Frederik Van Lierde. Freddy is retiring from professional racing, and raced his last international race this weekend at Ironman 70.3 Les Sables d'Olonne.
Thank you Freddy, and congratulations on your awesome career!
Here's Freddy from our 2015 Breakfast with Bob from Kona interview talking about winning the Ironman World Championship…
31
From Team Liza, mom Beth James and daughter Liza:
"Our absolute favorite Kona 2019 moment!"
Team Liza captured everyone's attention at the 2019 Ironman World Championship as they attempted to become the first mother-daughter duo to complete the toughest day in sport together. Beth, pulling Liza in a raft, completed the swim in 1:44, and made it through the grueling bike, but missed the cut-off by 13 minutes. This short video clip of Beth and Liza climbing up Palani showed just how tough Beth is and that she would do anything for her daughter.
WATCH our pre-race Breakfast with Bob interview with Beth and Liza James here.
WATCH the profile on double amputee Roderick Sewell from the IRONMAN TV show here.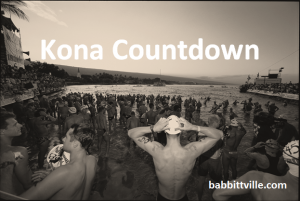 Check out some of our Kona Countdowns from the last five years here.