2018 is the 40th anniversary of the Ironman World Championship, and I'm looking back at each of my years at the Hawaii Ironman, starting in 1980 on the island of Oahu. I missed the first two years, 1978 and 1979, but since 1980, I haven't missed a World Championship. Every Friday, I count down each year – from my experiences as a participant in the early 80s, to my early years covering the event as a journalist, through my many years covering the race at Competitor Magazine and publisher of the official race program, to the early days of the Ironman LIVE broadcast, and on up to the launch and continuation of the Breakfast with Bob show.
You can follow along on Facebook, Instagram, and Twitter, and catch up here…
Part 1: 1980 – 1989
1980
It all started for me at the 1980 Ironman on Oahu. Here I am riding through the pineapple fields, approximately 85 miles in, listening to tunes on my Radio Shack radio (on the handlebars), with a cool towel around my shoulders, courtesy of my awesome support crew, who had given me a root beer snow cone a few miles earlier.
Racing that year along with me were my roommate at the time, Ned Overend, Dave McGillivray, Kurt Madden, John Howard, Tom Warren, Gordon Haller, and some guy named Dave Scott.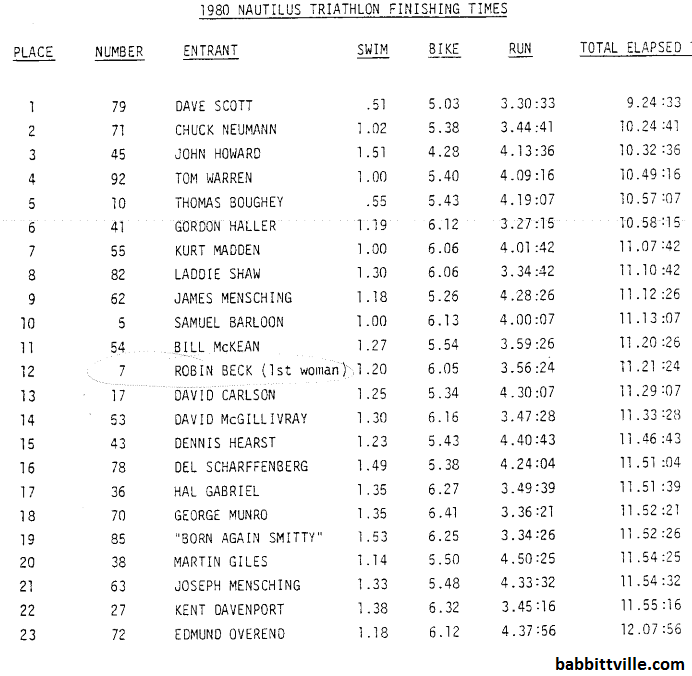 Read my 1980 Ironman story here.
1981
1982: February
Today, I'm flashing back to my 3rd Ironman: February 1982. As you can see, I was still sporting my high tech and stylish Bone Fones, listening to the radio on the bike. While I was enjoying my day on the Big Island, history was being made ahead of me. I came down Ali'i Drive and crossed the finish line about an hour after two college students from California changed the face of Ironman and endurance sports forever…
1982: October


1983
1984
1985
READ about my experience at the 1985 Ironman here.
LISTEN to a Babbittville Radio interview with Scott Tinley here.
1986
1987

Read about Dave Scott's 1987 race here.
1988
This week it's 1988, when Scott Molina and Paula Newby-Fraser were victorious. Read my look back here: A Look Back at the 1988 Ironman
1989
#FlashbackFriday 1989 Part 1
As we celebrate IRONMAN's 40th anniversary, I'm looking back at each of my Ironman's. This week: 1989. Paula Newby-Fraser won her 3rd title & Mark Allen finally beat Dave Scott & won his first of 6 titles in the race we call Iron War
📷 Lois Schwartz pic.twitter.com/TexduNUAnR

— Bob Babbitt (@Bob_Babbitt) May 4, 2018

Read what I wrote for Competitor Magazine about this historic race here: Iron War
You may also like….
A special interview with original Ironman finisher/champion: Gordon Haller