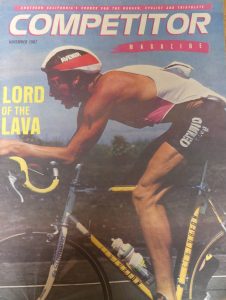 From Competitor Magazine, November 1987
by Bob Babbitt
Ironman Commandment Number One:
Thou shalt never take thine eyes off the road.
It was mere seconds since the end of the swim. Dave Scott was looking down, trying to get the bike shoe on his right foot to stay on the pedal. Mark Allen, his main competition at the 1987 Ironman World Championship, was immediately to his right, and he was trying to do the same thing. Suddenly, the two of them inched toward each other in a slow motion bicycle ballet. They smashed shoulders, Mark Allen careening wildly toward the snow fencing and almost going down. He looked up quickly after the sudden collision with a what-the-heck-are-you-doing look on his face. Dave Scott never looked up. He simply kept tugging at his shoe until it was locked down tight. Then he was gone. The 112 mile bike race was all of 10 seconds old.
Obviously Mark Allen was keying on Dave Scott. He stayed inches from the heels of the five-time Ironman Champ throughout the 2.4 mile swim. After their first but not last arm bumping of the day, Allen hurriedly joined the lead pack hammering out on the Queen Ka'ahumana Highway. After 40 miles of riding, the pack consisted of Keith Anderson from South Africa followed by Dave Scott, Mark Allen, Mike Pigg and Kenny Glah. Scott Tinley and Tom Gallagher were back a good two minutes.
Ironman Commandment Number Two:
Thou shalt never overlook a guy who rides fast and wears clothes with his own name on them.
Right after the turnaround, just past the seven mile the-wind-is-always-in-your-face uphill to Hawi, Scott Tinley magically appeared with Allen, Scott and the rest of the boys. Momentarily he was in the lead. "Tinley caught us and the pace really picked up," remembered Kenny Glah. "Mike Pigg and I were stuffing stuff in our jerseys when I realized "Oh my god…the press truck is in our lane!" Suddenly they had 150 yards on us out of nowhere. It didn't hit me until that point that the truck would have to stay in our lane."
But two-time winner Scott Tinley knows the importance of the lead vehicle. If the leaders reached the turnaround before him… he was history. They would have a downhill, a tailwind…plus they would be riding in the draft created by the press truck. And because of cyclists now going in both directions, the truck would be forced to stay directly in front of them.
"When I caught them and went into the lead," Tinley recalled, "I was sitting right there next to Dave, six feet off the rear bumper of the press truck. I didn't even have to pedal! I thought 'This is unreal!' Then I got a bad cramp and had to fall back to stretch it out. They were gone."
And so was Tinley. Off the back and into what is called the Ironman Twilight Zone. No one in front, no one behind. Just you, the wind, the heat and the black nothingness of the lava fields.
"When Tinley caught us at Hawi," said Dave Scott, "my first thought was, 'We're in for it now.' We were going at an incredible pace after the turnaround."
"We're screwing around putting stuff in our jerseys and they're hammering away," said Glah. "I just dropped it into my 12 (his toughest gear) and took off.  I caught up to them and just kept going. The ABC guys goes 'You've got 500 meters on them…is this planned?' I said 'No, but I'll take it.'"
Ironman Commandment Number Three:
If thou burns thy legs on the bike, thou will be running on briquettes in the marathon.
Glah, the young man from Pennsylvania, took it and ran for the next 20 miles or so. The surprise was that Mike Pigg and Mark Allen didn't try to get away. "I thought Pigg and I would pull away from him (Dave Scott)," said Mark Allen afterwards. "But I didn't want to push it. In the back of my mind I kept thinking 'marathon….marathon….marathon…'."
Dave Scott wanted to make sure that by the time he got to the marathon a major withdrawal had been made from everyone's legs. "I wanted to make sure that people were fatigued on the bike," said the man they call Mr. October, in a bit of an understatement. "At 80 miles I went by Kenny aggressively."
Dave Scott likes to race from the front, to race "aggressively". He enjoys himself a little bit more when he is in position to dictate the pace, when no one can see how he looks. But when he went by Glah at 80 miles, when he took the lead, he had company. It was Mark Allen, the man who sat on his heels in the swim, the guy who showed up in Kona in '86 just two weeks after winning his fifth Nice Triathlon Championship and gave Dave Scott a run for his money. Allen was hanging in the shadows, sticking to Dave Scott like a determined Girl Scout with twelve extra boxes of Thin Mints to sell.
The two finished the bike ride the way they started it 112 miles earlier….in tandem. Allen was the first to run up the Kona Surf hill, but Scott soon joined him. The two ran side by side down Ali'i Drive to the cheers of thousands. "I felt very weary getting off the bike," said Scott. "It was the worst I ever felt getting off the bike. The last thing I wanted to do was to go side by side with Mark Allen. We bumped together a couple of times coming down Ali'i Drive."
But if Dave Scoot felt "weary", Mark Allen was feeling positively worn. He had been having stomach problems all week. He didn't know if it stemmed from some raw fish he ate early in the trip or not, but on race morning "It felt like my stomach was sucked up into my diaphragm."  Allen eventually threw up twice during the last 10 miles of the bike ride.
Surprisingly, Mark Allen felt better shortly after the bike to run transition. "I felt real good coming off the bike," said Allen. "My plan was to pick it up at the turnaround. I decided to just run my pace."
"My pace" was good enough to leave Dave Scott 30 seconds behind as they left downtown Kona, and four and a half minutes back by the turnaround at 16 miles. But was he going too hard? Was this shaping up to be a repeat of 1984 when Allen had 13 minutes on Dave Scott off the bike and fell completely apart halfway through the run? Mark Allen didn't think so.
"I know my body well enough to not go too hard," he said adamantly after the race. But Mark, since you swam behind him and rode behind him…why not run behind him too? Maybe take it easy and then cruise by at 25 miles or so. Let the big guy do all the work.
"You can't put energy in the bank," Allen answered. "If you don't use it now it doesn't mean it's going to be there later. I wasn't going to slow down to run with him. Who knows? He might be tight early and get loose later on. I felt smooth and relaxed during the first part of the run. I never felt I went too hard."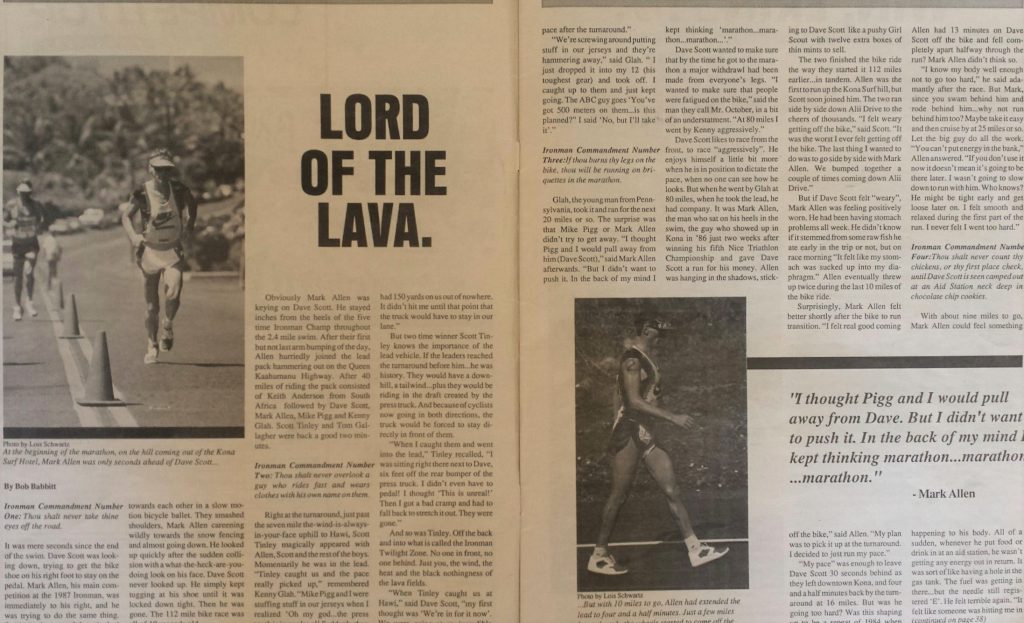 Ironman Commandment Number Four:
Thou shalt never count thy chickens, or thy first place check, until Dave Scott is seen camped out at an Aid Station neck deep in chocolate chip cookies.
With about nine miles to go, Mark Allen could feel something happening to his body. All of a sudden, whenever he put food or drink in at an aid station, he wasn't getting any energy out in return. It was sort of like having a hole in the gas tank. The fuel was getting in there….but the needle still registered 'E'. He felt terrible again. "It felt like someone was hitting me in the stomach," recalled Allen.
Dave Scott, off in the distance, didn't think that Allen would repeat his 1984 collapse. But he's not the type of guy to just sit back and concede the race either. "About mile nine or ten my pace picked up a bit," said Scott. "At 16 miles Mark had four and a half minutes on me, but when I looked at him on the way back to town, he looked glossed over. I thought, 'let's keep him honest…maybe he'll falter a bit.' Then I made up 40 seconds in one mile and people going the other way told me that Mark had walked through an aid station."
Bob Bright, race director for the Chicago Marathon, is the elite athlete coordinator for the Ironman. "When I saw Mark Allen take two steps," said Bright, "I looked back real quick. I knew Dave smelled it. I wanted to go up alongside him and say 'Dave, we've got a little money here….slow down! Wait until you get to Ali'i Drive to pass him!'"
But Dave Scott wasn't waiting for anything. He has a very distinct way of passing people. Mark Allen calls it the no-remorse-forget-me-I'm-gone pass. He has seen it up close and personally at the 1984 Ironman and in 1983 in Panama City, Florida. Unfortunately for him, he was about to get to see it again. At 22 miles Dave Scott flew by, on his way to his record sixth Ironman victory.
"This was the hardest one I've ever done," said a worn out Dave Scott at the finish. Mark Allen would readily agree. He ended up in the hospital, eventually needing three units of blood and seven bottles of IV fluids.  He had been bleeding internally throughout the run. Mark Allen had gone as hard and as long as humanly possible. Unfortunately, he came up four miles short. But what do you expect? Dave Scott is the King, the main dude, the Lord of the Lava. And you know what his last commandment is don't you?
Thou shalt never beat Dave Scott on the Kona Coast.
1987 Results
Dave Scott 50:57 4:53:48  2:49:26  8:34:13
Mark Allen 51:00 4:53:47  3:00:21  8:45:19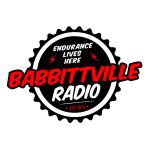 LISTEN to a classic interview with Dave Scott
LISTEN to a classic interview with Mark Allen