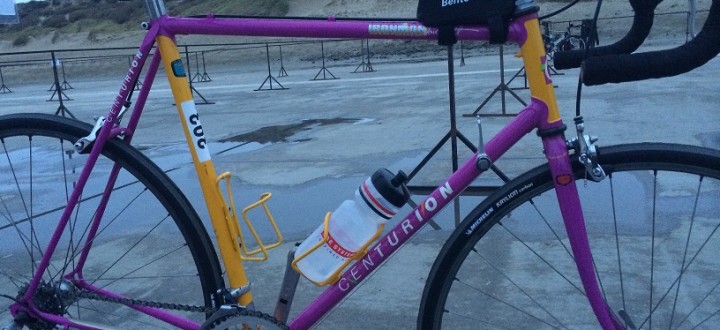 A few weeks ago, I came across this classic Dave Scott Centurion in the transition area at a triathlon on the base at Camp Pendleton. I posted the photo to Twitter and Facebook, where it generated a lot of comments. The bike and all the memories it invoked struck a cord with lots of people. This got me thinking of an editorial I wrote back in 1994 on Mr. October, The Man, Dave Scott. I hope you enjoy it.
Dave Scott
It was hard to miss. The jagged red scar started just under the hairline on the right side of his face and traversed his forehead before dramatically plunging south in front of the right ear before coming to an abrupt halt just below the chin.
The owner of this distinctive mark was next in line to meet Dave Scott. I was standing behind the six time Ironman champion as he signed autographs and chatted with his fans at our Competitor Magazine booth prior to his comeback race, the 1994 Ironman.
He was 40 now but certainly didn't look it. From the lines that stretched from the expo area in the King Kam Hotel out into the lobby, it was obvious that "The Man" had lost little in the way of popularity even though it had been seven years since his last Ironman victory and five since his last Ironman, the infamous Ironwar showdown that he had lost to his nemesis Mark Allen.
Dave Scott does not simply sign autographs. Nope. The big guy likes to know the people he is signing for. He asks about you, about your family, about your ancestors, about your dog, about your dog's ancestors and about that great sand castle you built back in the third grade.
For people working the expo booths where Dave Scott is appearing, Mr. October can be maddening. At the end of the day everyone else has packed up their booth and headed off to dinner while the line to hang with Dave still stretches from here to Newark and back. "Dave, my clothes are going out of style," they'll say through clenched teeth. "Dave, I need to get home before my six year old graduates from college," they'll mumble.
Dave Scott could care less. He takes the right amount of time with each and every person. They've waited in line to meet Dave Scott, not just to get a scribbled autograph from someone who looks they're just fulfilling an obligation and not very happy to be there. Dave Scott is happy to be there and is as anxious to meet you as you are to meet him.
Sound unique? It is.
Mr. Scar puts a poster in front of Scott. Dave looks up, smiles, shakes hands and exchanges introductions with his new best friend Jim and starts the interrogation:
Dave: "So, Jim, are you racing this year," says Scott, magic marker at the ready.
Jim:  " No…not this time."
Dave: "Is someone in your family racing? Your wife? Your brother? Your dad or mom?"
Jim: "No, Dave…no one I know is racing."
Dave: "Are you thinking about doing the Ironman some day?"
Jim: "I'm not really sure Dave. Maybe some day."
Dave Scott is stumped. Jim's not racing, no one in his family is racing, he's not really here doing recognizance for a future Ironman attempt. Hmmmmm.
Dave: "So….what brings you to Kona, Jim?" asks the confused Lord of the Lava?
Jim:  "Dave, I'm sure you don't remember…but I've been a fan of yours for a long time. I was in a serious car accident about four years ago and a friend of mine called you up to tell you about the accident. You called me three times while I was in the hospital to see how I was doing. You have no idea how much that meant to me. I vowed right then that if you ever raced again in Hawaii, that I would be here. I'm here in Kona for one reason… to watch you race."
I guarantee you that Jim will not be alone in Hawaii come Ironman time. Yeah, the race for the men's and women's titles will be awesome. No doubt about it. They always are. But for so many like Jim, they will be in Kona for one reason and one reason only:
To watch Dave Scott race.
Epilogue
At the age of 40, Dave Scott came back to Kona, took the lead on the bike, got to within 11 seconds of Greg Welch during the marathon and ended up finishing second, the highest place ever for someone 40 years old.
Two years later, in 1996 and at the age of 42, 'The Man'  was way back off the bike, but ran his way up to fifth place with a 2:45:20 marathon, the second fastest marathon of the day.
LISTEN and WATCH as Dave talks about his memorable races in Kona: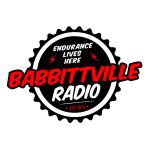 When you ask six-time Ironman World Champion Dave Scott a question, always expect an honest answer. On this Babbittville Radio interview we chat about the 20th anniversary of his fifth place finish at the age of 42 in Kona in 1996 and his thoughts on the overload of long distance racing that is hurting today's pros. LISTEN here.
Dave Scott the six-time Ironman World Champion visited with us on Breakfast with Bob during Ironman week in 2016. We talked about one of his best races in Kona: the 1994 race when he finished 2nd at 40 years old. Dave also shared his thoughts on the possibility of someone going sub-8 in Kona, and running sub-2:40 for the men and sub-2:50 for the women on the marathon. Spoiler alert: he expects it to happen soon.
For more on The Man, check out our Dave Scott archives on Babbittville.com here.