Editor's Note: I wrote this about David Bailey as part of our pre-race coverage of the 2009 Ironman World Championship
It was the day after the 2008 Ironman World Championship. David Bailey, who had been one of the best motocross athletes on the planet before he was paralyzed, was barreling down the Queen Ka'ahumanu Highway on the Big Island of Hawaii heading back toward beautiful downtown Kailua-Kona. He had never expected to be on his handcycle again, to be pushing hard again and to experience the joy of sweat dripping from the brim of his helmet into his eyes again. 'God, this feels good,' he said to himself. 'One day I have to come back and do this race again.'
Just past the Kona Village Resort he spotted mile marker 86 and everything in his life that has happened to him since 1986 suddenly came flashing back.  A smile played at the corner of his lips. He had honeymooned with his wife Gina in October of that year at the Kona Village Resort and had watched the Ironman live for the very first time while Dave Scott won his fifth Ironman title. He told Gina that one day, when his motocross career was behind him, he needed to come back and try the Ironman.
He was coming off the best motocross season of his life and doing the Ironman seemed like it was a long, long way away.
But in a sport where catching big air is the name of the game, suffering through a big landing is something everyone hopes to avoid. In January of 1987, David Bailey was paralyzed from the waist down while training for the Supercross season opener. At the time, he was the defending national champion making a high six-figure salary with a new wife, a new house, and plans to race in Europe later that year. The world was his oyster. The next minute, David Bailey's career was over and he was another disabled guy trying to figure out what his new purpose in life was.
"When I was injured I had already accomplished a lot," he says. "Everything I wanted to win I did, so I definitely went out on top. But when you are a professional athlete, you're pampered and everyone is doing things for you. When I was hurt, I was pampered even more."
He ignored what they told him in rehab. "I thought I'd be back walking soon, so why bother?" he admits. "What made me great at motocross didn't transfer to dealing with a spinal cord injury. I needed to focus on what I could do and eventually I realized that if I didn't get it together I would lose everything."
He was a husband and a father and a motocross star without a career. And he was upset and depressed and didn't have a clue how to deal with it.
Then he met Jim Knaub, a former Olympic Trials pole vaulter who had been paralyzed in a motorcycle accident as well, but had realized pretty quickly how to adapt to his new surroundings. "Jim told me he didn't care who I was or what I'd won," he remembers. "He gave me the tough love I needed."
Just a few days after they met, Bailey joined Knaub for a road trip to Mexico to go deep sea fishing and ride four wheelers. Knaub, a five-time Boston Marathon champion in his racing chair, pushed Bailey to get into that sport as well, and the next thing he knew the two of them were off to Australia to do an event, give sky diving a try, and then race the Boston Marathon. Knaub brought out the athlete that had been lying dormant inside of David Bailey.
Then it happened. Wheelers were trying to finish the Ironman Triathlon under the cutoff times using a handcycle for the 112 mile bike portion and a racing chair for the 26.2 mile marathon. A goal of David Bailey's that dated back to 1986 was back in play. He came over in 1997 to watch John Maclean from Australia try to become the very first wheeler to finish the Ironman officially. In his previous two attempts, Maclean had missed the bike cutoff time of 5:30 in the afternoon. On this day, though, Maclean made all of the cutoff times and David Bailey knew that when he came back in 1998, it would be his turn.
During his three year run in Kona, Bailey took third, second and, in 2000, first. His nemesis all three years was Navy SEAL Carlos Moleda, who had been paralyzed when he was shot in the back during a military operation in Panama. Bailey had beaten Moleda at the Buffalo Springs qualifier in Lubbock, Texas in 1998 and thought the Ironman was in the bag. Not quite.
"I got smoked," he remembers. "I was on the Queen K Highway during the handcycle. I'm in the lead and one of the able bodied guys in the race comes by and goes 'Hey, you guys are doing great.'"
"I'm thinking, 'You guys?'….. What do you mean 'You guys.' It's just me out here…..
I asked him what he meant and he goes, 'Oh, he's a ways back there'. So I relaxed. Five minutes later Carlos comes by me like he's on a scooter and I'm wondering what 'a ways back' meant to that guy on the bike?'"
Carlos Moleda ended up getting the better of Bailey in both 1998 and 1999. But after coming from behind and finally beating Moleda in 2000, Bailey felt like that chapter in his life was over. His whole family was there, he beat the course record holder and the guy he went to bed every night and woke up every morning thinking about, and race day turned out to be his mom's birthday.
What could be better? Mission Accomplished.
A few years later, Bailey met a 16-year-old motocross star-to-be named Ricky James. Great name, great looks, a megawatt smile, a need for speed and fearless. "He just had it all," says Bailey.
Then, like Bailey, James was paralyzed. It happened during one of his first races after signing a pro contract. But James, unlike Bailey, dove back into life right away. A month after the accident he was in Las Vegas riding the roller coaster at New York, New York and cruising around a motocross event on a four-wheeler. A year after his accident James was back on a motorcycle on the same track where he was paralyzed. He was the Go For It Kid and the fact that he got back on the motorcycle proved to David Bailey that he could get back on the bike and ride a few laps himself.
Not good. When Bailey got back on the motorcycle and rode around the track, he aggravated a pressure sore. Add to that the fact that he was older, wasn't eating well, was sitting a ton and traveling even more, and a small issue became a large one. When the pressure sore became infected, financial and insurance issues kept Bailey from getting the help he needed. His weight dropped from 155 to 120 pounds and he laid face down in a pillow for the better part of a year. "I was heading south fast," he says. "I was dealing with wound care clinics, insurance issues, and my legs were frozen at the knee joints so I couldn't bend them at all. Everyone was concerned and with good reason. I was hanging on by a thread."
It was two years before he could sit up, and without the help of the motocross community, he would have lost his home. "What I learned from the suffering I put up with in training and racing Ironman got me through those tough times," he insists.
It didn't hurt that when he finally was able to have successful flap surgery and the infection cleared up, Ricky James, who he mentored in motocross, showed an interest in triathlon.
The next thing he knew, David Bailey was pushing his handcycle again alongside Ricky James and feeling like a new man. "Training with Ricky was everything in terms of my recovery," he said.
And training with David Bailey, who had records of every workout he did to get ready for Ironman, got Ricky to the finish line in Kona in 12:44 last October on his very first attempt in his third-ever triathlon. "Whatever David told me to do, I did," remembers James.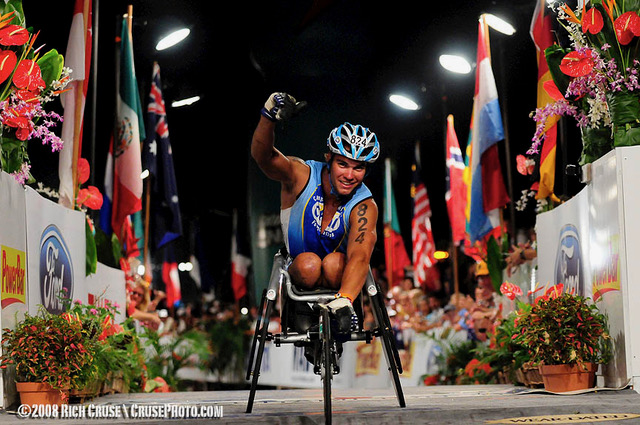 While Ricky James was off adding to his growing tattoo collection the day after the 2008 Ironman, David Bailey was back where he belonged, hammering away on the Queen K Highway not because he needs to prove anything to anyone, but because getting ready for the Ironman World Championship makes him feel vibrant and oh so alive.
"When I got back home from the trip," he recalls, "I told Gina that I think I'd like to come back and try the Ironman again." This summer he went back to Lubbock, Texas and nailed down his spot. "I just got back from a training camp on the Big Island," he said in late August. "I am so excited to be doing the Ironman again."
And why shouldn't he be?
Life is great, the guy is healthy, and Mile Marker 86 is out there waiting for him.
Editor's Note: In 2009, David Bailey went 11:35:38 and finished 2nd in the handcycle division.