As I look back, 2017 was an awesome year, filled with tons of great memories….
I was able to race 35 times, and loved chatting with all my racing buddies at what I like to call, "a catered workout."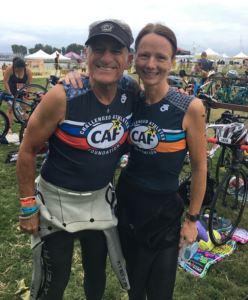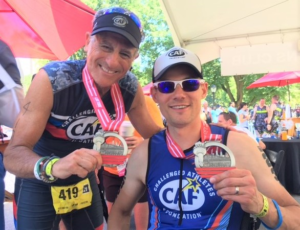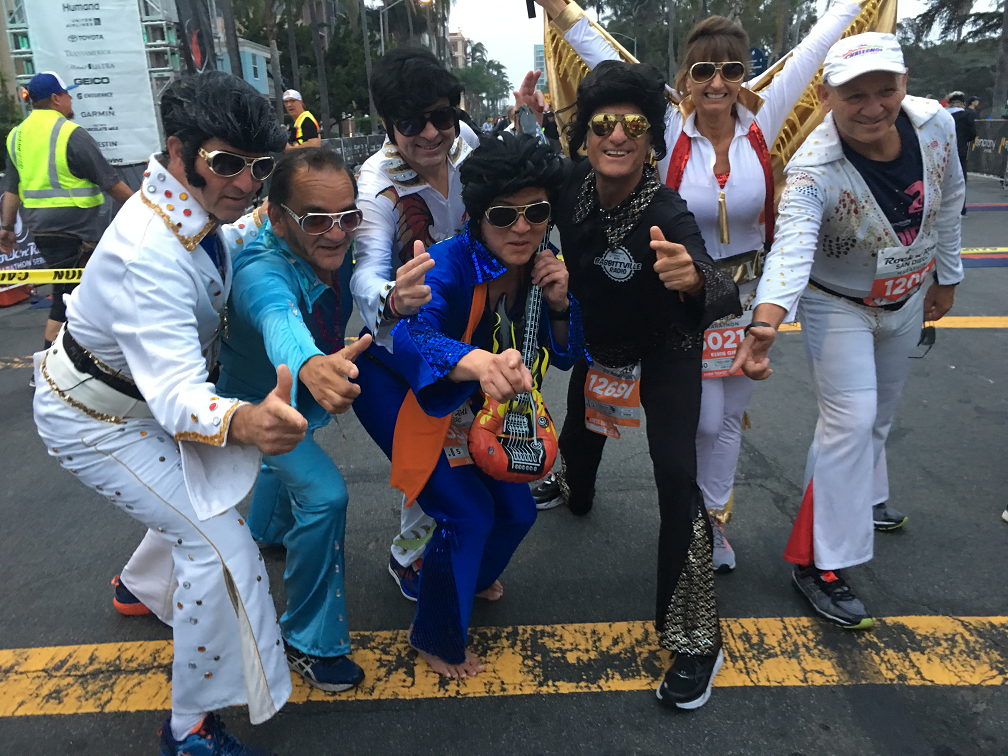 35 races means a lot of Medal Mondays, and quite an epic collection of medals. Congratulations to all of you who celebrated a Medal Monday in 2017!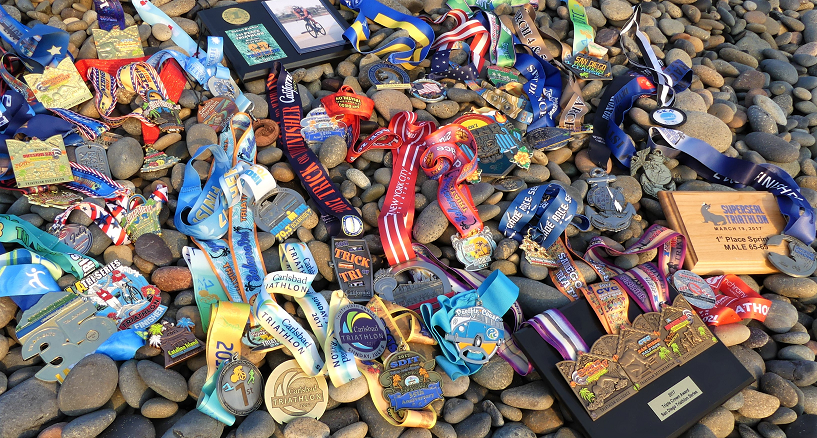 Speaking of epic medals….in June, we celebrated the 30th anniversary of when Lois Schwartz and I launched Competitor Magazine in June of 1987 with some of our closest friends and legends of the endurance world.
More on the Competitor Magazine 30th Anniversary Party
In 2017, we took our Breakfast with Bob interview show to the Boston Marathon, the New York City Triathlon, Ironman Mont Tremblant, and we finished up the season by heading to Kona for the Ironman World Championship.
In Kona we put together 58 interviews with the legends of our sport, and the numbers of viewers this year was amazing. Our wonderful viewers put in over 3 million minutes of viewing time, watching the greatest triathletes in the world talk about the biggest day in our sport.
Breakfast with Bob Interview with Jan Frodeno

Breakfast with Bob Interview with Michelle Vesterby
Watch Breakfast with Bob Interviews from Ironman Mont Tremblant
Kim Schwabenbauer at Ironman Mont Tremblant

Watch Postcards from Boston Interviews
Dave McGillivray at the Boston Marathon
Mike Wardian at the Boston Marathon
Watch Breakfast with Bob Interviews at the New York City Triathlon
Interview with Cam Dye at New York City Triathlon
On Babbittville Radio, we had over 400,000 downloads and recorded nearly 100 interviews.
A few of our listeners' favorites from 2017 included
For the Triathlon Club of San Diego, we did 11 Facebook Live Q&As with, among others, Jan Frodeno, Kathleen McCartney and Mike Levine, Lionel Sanders, Ben Kanute, Terenzo Bozzone, David Bailey, and Dean Karnazes.
Lesley Paterson and Simon Marshall at Tri Club of San Diego
David Bailey at Tri Club of San Diego
Between Babbittville Radio, the Breakfast with Bob shows, Tri Club San Diego Q&As, and a few others, that's over 250 interviews in 2017!
Love it!
There were also a number of media folks kind enough to actually take the time to interview me about everything from the early days of triathlon, the creation of Competitor, Muddy Buddy, the Challenged Athletes Foundation, and how to expand the reach of our sport.
Brink of Midnight Interview
Fat Black Podcast: 
Some of my favorite moments from 2017?
I am so glad you asked!
Being at the MLB Network with 11-year-old quadruple amputee Landis Sims as he wowed Kevin Millar and Eric Byrnes with his ability to hit and throw, even though he is missing both hands. Watching Landis throw out the first pitch at Yankee Stadium and then, the next night, having him represent the Yankees at the MLB Draft was something I will never forget.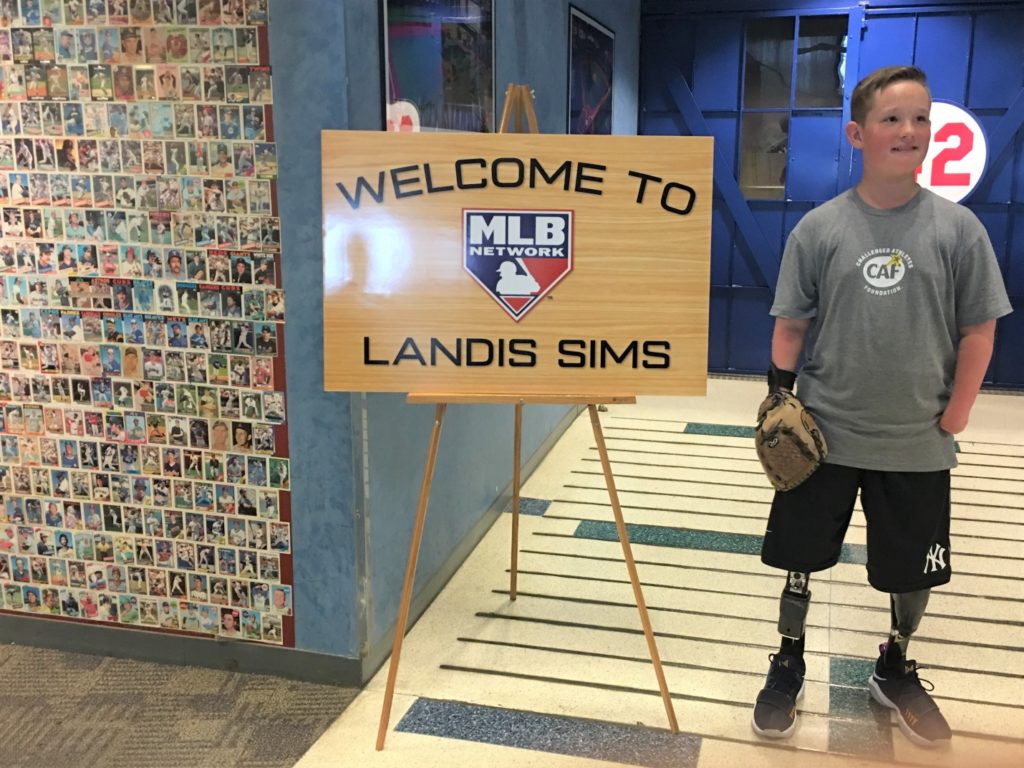 Landis Simms at MLB Network
Watching Andre' Kajlich become the first handcyclist to finish the RAAM, watching One Arm Willie Stewart become a Leadman, and seeing the man we call Double NN, Glenn Hartrick, come back from his horrific accident and complete Ironman Florida was very special.
LISTEN TO THE: Babbittville Radio interview with Andre Kajlich on finishing RAAM
LISTEN TO THE: Babbittville Radio interview with One Arm Willie Stewart on tackling the Leadman Challenge
Glenn Hartrick Interview at New York City Triathlon
LISTEN TO THE: Babbittville Radio interview with Glenn Hartrick on finishing Ironman Florida
Lauren Parker was with us on stage in 2015 at the Ironman World Championship after she took second in the 25-29 year old age division. To hear about her being paralyzed in a bike accident on April 18th of this year just before she was to make her pro debut at Ironman Australia was heartbreaking. To have her on the radio show less than three months later and then to have her join us in San Diego for our CAF San Diego Triathlon Challenge weekend in October was awesome. When I told her story at our CAF Celebration of Abilities Gala and 600 people gave her a standing ovation, there wasn't a dry eye in the house. The fact that she is now swimming, handcycling, and training in a racing chair with the hopes of competing in Paratriathlon at the Commonwealth Games this spring and, hopefully, the Paralympics in Tokyo in 2020 proves once again that sport helps us heal, and definitely changes lives for the better.
LISTEN TO THE: Babbittville Radio interview with Lauren Parker
For a total breath of fresh air, no one is a better interview than former Olympic rower, pro cyclist and pro triathlete Cameron Wurf. Do yourself a favor and download that Babbittville episode and get ready to have the time of your life. Trust me. This young man is special.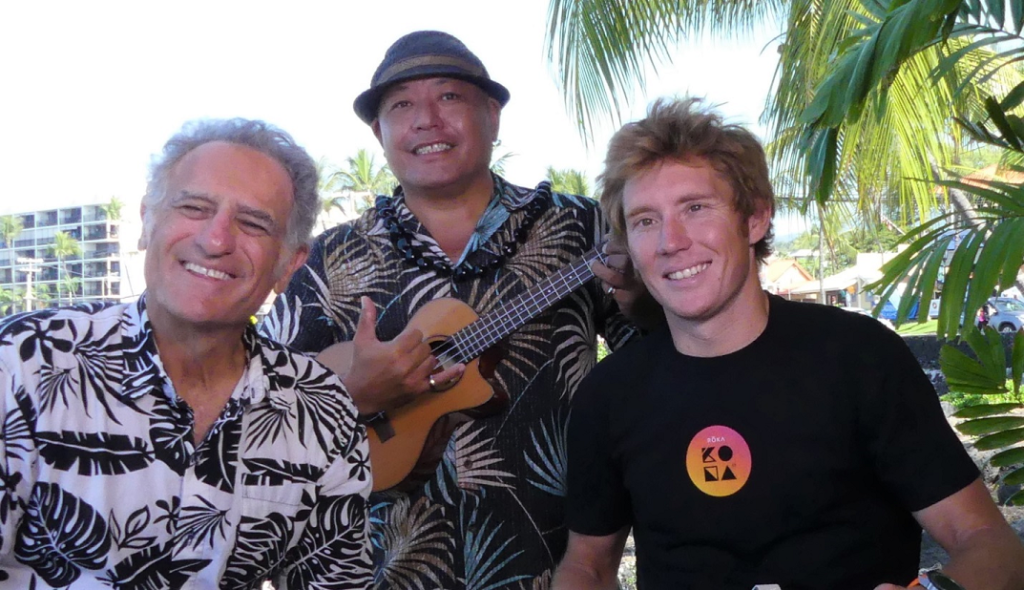 LISTEN TO THE: Babbittville Radio interview with Cam Wurf, recorded in studio post-Kona.
Speaking of special, imagine growing up in a family where everyone around you is a criminal. John McAvoy had his first gun at the age of 16 and went to prison for the first time for armed robbery before he was 20. While he was serving time, a prison guard introduced John to the sport of indoor rowing and before you know it, John had turned his life around, was released from prison and started racing triathlons. John's story of redemption is very special.
LISTEN TO THE: Babbittville Radio interview with John McAvoy
It's not often that I'm left speechless during an interview, but that's what happened when I chatted with Lucy Charles from the UK. She had won her age group in Kona, but this year was her first time in Kona as a professional. When I asked her about her swimming mileage when she was an Olympic hopeful back in 2012, she didn't hesitate. "I was swimming 100K per week," she said casually. 100K per week? Over 60 miles every week? Who the hell does that? You could tell Lucy was not going to be intimidated in the least and on race day she passed a number of the pro men during the swim -the men started five minutes before the pro women- and ended up taking second place in her first attempt at the Ironman World Championship as a pro. Lucy is special!
Lucy Charles Breakfast with Bob Pre-Race Interview
One of my favorite radio interviews this year was with Camille Herron, who set records and raced incredibly this year, but forget about all that, she loves to drink beer while racing ultramarathons and, most importantly, once ran 2:48:51 in a Spiderman costume. This year Camille became the first American to win Comrades since 1997, broke the women's record for 100 miles at the Tunnel Hill 100, and became the first woman to go sub-13 for the distance with her 12:42:40. She broke the women's record for 100 miles by over an hour in her first attempt at the distance. Whether it's drinking beer during an ultra, running in a costume, or just being a generally bad ass runner, clearly Camille has things figured out!
LISTEN TO THE: Babbittville Radio interview with Camille Herron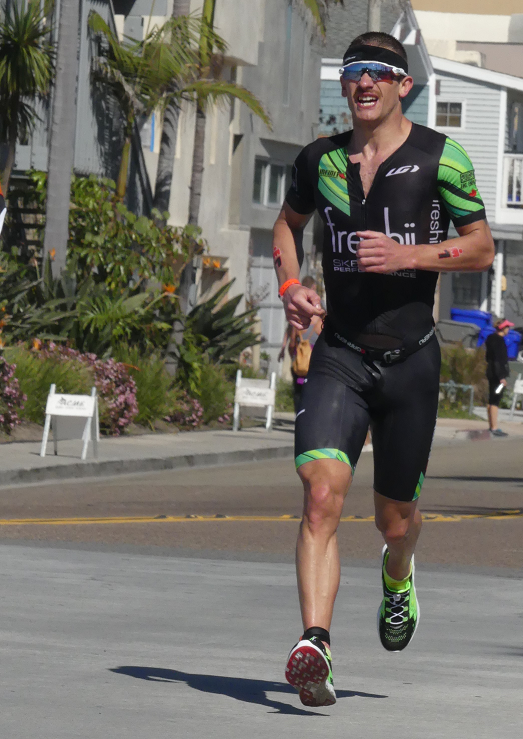 I have had a number of opportunities over the past few years to interview the man who led the 2017 Ironman World Championship for a big chunk of the day, Lionel Sanders. He came back from the brink of suicide to lead this year's race for nearly 24 miles of the marathon. He ran 2:51 off the bike and, if Patrick Lange from Germany doesn't break the course record, Lionel would be the Ironman World Champion. If you have some free time, listen to all of our conversations with Lionel. What I appreciate about Lionel is that he wears his emotions on his sleeve. During the telecast of this year's race it looked like Lionel was dragging his leg along with him and you could hear him grunting throughout the marathon. The truth is, if you don't take a risk not just in a race but in life, rewards are few and far between. Lionel took that risk this year in Kona and pushed Patrick to the greatest performance ever at the Ironman World Championship. At the end of the day, Lionel did everything he could to win the race and Patrick Lange just happened to be two minutes better over a period of eight hours.
Lionel Sanders Championship Edition Breakfast with Bob in Kona
LISTEN TO THE: Babbittville Radio interview with Lionel Sanders after a classic battle with Sebastian Kienle at the Challenge Championship
A very special interview with Lionel and his mom Becky at the Boston Marathon, where they both ran:
Another special moment for me was watching the amazing Meb Keflezighi, my birthday twin, complete his final competitive marathon, his 26th, in New York City, where he happened to run his very first. Meb and I go back a lot of years and when we had his retirement party just a few weeks ago, I was invited to tell a few stories and then I presented Meb with a Running Elvis suit so he can break Mike Wardian's 2:38 Elvis World Record, hopefully in Las Vegas next November.
San Diego Union Tribune piece on Meb's Retirement Party and the Running Elvis Gift
More Meb:
Babbittville Salutes Meb Keflezighi
LISTEN TO THE: Babbittville Radio interview with Meb Keflezighi, announcing his final two professional marathons
The best thing about 2017? With all of our athletes ready to accomplish greatness, and the 40th anniversary of Ironman looming, the table is set for an even more amazing 2018!
Being able to tell stories and talk story is the ultimate gift. Thank you all for allowing me to do what I love every day of the year!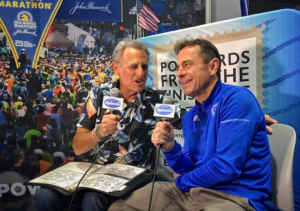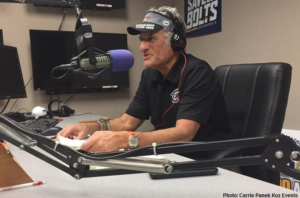 See you at the races!
-Bob